GTA: The Criminal Enterprises - The Loop
Play Sound
Wing Manor is a manor near the border of Pigeon Forest.
Description
[
]
Wing Manor refers to a number of buildings which comprise a village. It is located at the end of a road surrounded by fragrant flower fields.[1] There is warm sunshine, but also shade that keeps the manor cool during the summer months.[2][3] During the night, the sky fills with fireflies, a sight which is impossible to see in the town.[4]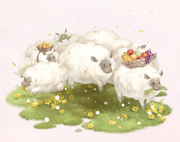 Surrounding the manor are fields which are home to crops and animals, including strawberries, wheat, sheep, chickens, and cows. Shepherdesses such as Freya take care of the herds, while farmers such as Angie tend to the fields.[5][6] There is a small stream as well, which allows the people there to make wine and ferment dough.[2] It's said that the strawberries there are sweeter than those from Apple Federal.[7]
History
[
]
Year 580
[
]
During the summer of this year, Earl Imorton took his daughter Flora to stay at Wing Manor. Though he claimed it was for business purposes, the true reason was because his daughter was sick and he wanted to take her to see many beautiful places before she died.[3][8]
Year 680
[
]
When there is a good harvest, the Wing Manor has a Harvest Festival, a ceremony with a dancing party, a harvest parade, a bonfire, and barbecue. In this year, Nikki and Momo went to visit, where they met Freya and Angie. Several days before the ceremony, Freya and Angie made Angie a dress together; however, on the morning of the ceremony, Angie tore her dress on a branch. During the afternoon, they noticed Angie was missing, so they went to her house, where she was sewing up her dress. Freya helped her out, and they went on to enjoy the rest of the ceremony.[1]
Name by Server
[
]
| Version | Name (Romanized) | Translation |
| --- | --- | --- |
| International (English) | Wing Manor | N/A |
| International (French) | Manoir Ailé | Winged Manor |
| Southeast Asia (English) | N/A | N/A |
Trivia
[
]
Girls in the Wing Manor are fond of wearing sets like Pastoral Pearl - high-waisted bubble dresses with puffy sleeves and knee-length skirts.
References
[
]
[

]