Wheat Field is a small, peaceful town in Apple Federal near the border of Lilith, best known for its wheat.[2] Nikki began her journey here after being brought to Miraland.
History
[
]
Nikki and her cat Momo were brought to Wheat Field by Queen Nanari, who subsequently disappeared after speaking to Nikki.[3] While exploring Wheat Field, Nikki met Aron,[4] Bobo,[4] Vivi,[5] Toto,[6] Timi,[7] and Kaja.[8]
Nikki also met Lunar.[9] Lunar's design for the Stringless Guqin had been stolen by Mela, a member of the Iron Rose, and Nikki helped her retrieve it.[10][11]
After Nikki left, Lunar asked Kaja if she knew anything about the Pure Heart Workshop, which potentially sold a part she needed to craft the Stringless Guqin. Kaja didn't know, but she took Lunar around to various shops that sold musical instruments.[1] One of the shop owners mentioned that there was a cloth store called Pure Heart in Wheat Field.[12]
Lunar went to meet Pure Heart's owner, who asked her why she needed Finger Sob strings, as they were very difficult to make. Lunar told her that she was going to craft the Stringless Guqin, and the owner agreed to sell her the strings after they competed over rocker style.[12]
Locations
[
]
Pure Heart
[
]
Pure Heart (清心坊, Qīngxīn fāng) is a store that sells Cloud Empire cloth. It used to be located in Cloud and was called the Pure Heart Workshop, and sold guqin strings called Finger Sob Strings.[1] It has a charming, welcoming atmosphere, with an old-fashioned wooden door that shows the marks of time and wind chimes that sound when someone enters.[2]
Scarecrow Fountain
[
]
In the center of town, there is a music fountain best known for its scarecrow statue.[2]
Wheat Field Station
[
]
Wheat Field's train station is equipped with the basics and is generally not a busy area. They have a pair of telephone booths for people to use.[13]
Other
[
]
Many stores to go shopping in[15]
Encounters
[
]
The following Around the World encounters take place here:
Map
[
]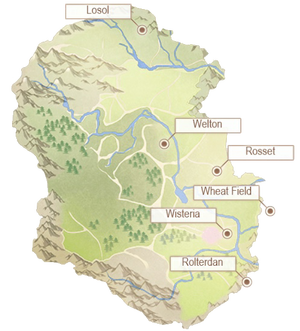 Trivia
[
]
Name by Server
[
]
| Version | Name (Romanized) |
| --- | --- |
| International (English) | Wheat Field |
| International (French) | Champ de Blé |
| China (Simplified) | 麥川 (Mài chuān) |
| Taiwan/Hong Kong/Macau (Traditional) | 麥川 (Mài chuān) |
| South Korea | 앨리스 (Aelliseu) |
| Vietnam | Muchi |
| Southeast Asia (English) | Wheat Field |
Gallery
[
]
References
[
]
[

]