Hi, I'm Kyara. My sisters hooked me up and now I'm addicted! I saw this wiki and thought if I could help out a little. In fact, I'm so addicted that I started playing on the JP version too.
I'm currently juggling between school and other games, so I've only been semi-active. But if you have any inquires about wiki editing or anything like that, feel free to ask and I'll try to answer.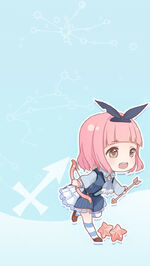 Well, if you didn't notice already I'm a boy shocking I know that loves to play dress-up, whether it is on a mobile game or MMORPG. When it comes to games I absolutely love grindy old-school JPRGs (7th Dragon, Bravely Default etc.) and strategy games (Fire Emblem). Outside that my interest revolves around Vocaloid music, writing and looking up random facts and tidbits, be it about history, science, etymology etc..
Oh, and I'm also a Sagittarius. Just like Nikki herself!
Userboxes
Edit
| | |
| --- | --- |
| | This user loves Momo! |
| | |
| --- | --- |
| | This user dislikes Momo! |
Favorite Suits
Edit
Since everyone else is doing it...
I have a sandbox where I try to add all kinds of stuff. I pretty much edit whenever I feel like it, so don't expect great things from me lol.
I also have a bot: Kyara39bot. Message me if it screws up!
Community content is available under
CC-BY-SA
unless otherwise noted.