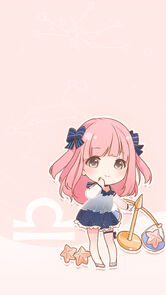 Hello ♡ 
Welcome to my page. I joined the wiki a while back in hopes of working on item descriptions, my most favorite thing to do. I'm not super-active right now but I do try to return now-and-then, so if you need any help related to the wiki or just wanna chat about the game, feel free to message me.
I came across Love Nikki while playing another ap game, and I was instantly smitten with it's art style, charm, and the whole dress up thing; I love cutesy games with customization features. It was what attracted me to the fun rhythm games like Pripara and Aikatsu. There's also the game Romantic Diary that I enjoy playing too, it's a lot like Love Nikki but with dating sim elements.

I love anime and video
games, as much as I love slasher movies, singing, and baking. I also enjoy artistic things and reading mystery books, and I'm hopelessly obsessed with Teto Kasane, glitter, cuddling stuffed animals, flowers, Ichimatsu, rainy weather, and gothic-lolita fashion.
My favorite colors are pink and black, I have at least 10 favorite animals but my top 3 are cats, bats, and panda bears, and I have a lot of favorite foods- but a few of them include cheesecake, cola, and chinese.
Community content is available under
CC-BY-SA
unless otherwise noted.