Raise a Floppa - The Loop
Play Sound
Universe Tide is a set of Story Suits. It contains the Daybreak Oath, Mushroom House, Dark Verdict and Nuptial Needlework suits, which can be obtained from the Sea of Trees event.
Completion Prize: 50

Sea of Trees
[
]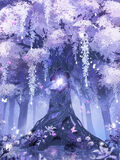 The world's beginning,
Chaotic and dark,
Then light sheds,
And a seed,
Begins to bud.
Lonely Farewell
[
]
The bard sings,
The grace of gods.
Enjoy the view afar,
Cherish the memory inside.
Dawn Oath
[
]
The lake inside ripples,
The green spreads on the branch,
In the complicated vein,
There are joys and sadness.
Whisper of Time
[
]
Gradually, the tree grows tall,
Out of the earth, into the sky.
Every touching moment,
Is a leaf on the branch.

And dark moments, of course,
The pain to lose your love,
The loneliness of misunderstanding,
The resentment of failures,
Those leaves in the shadow,
Are also a part of the tree.

The courage to fight fate,
The strength to pursue the dream,
The sparkling light in the river...
The memories in the leaves clash,
And turn into crystal dew.

Drops of dew fall from the leaves,
Gathered together into a stream.
In the waves of the tide,
Clear crystals are formed.

Maybe, someday,
The leaves of Tree of Life
will wither,
Branch and root will rot,
Light of crystal will dim,
And the world will return to chaos.
Etymology
[
]
Name by Server
[
]
| Version | Name (Romanized) | Translation |
| --- | --- | --- |
| International (English) | Universe Tide | N/A |
| Taiwan/Hong Kong/Macau (Traditional) | 萬象之汐 (wàn xiàng zhī xī) | Universe Tide |
| Japan | 万象の汐 (Banshō no Shio) | Universe Tide |
| South Korea | 세계의흐름 (segyeuiheuleum) | World Flow |
| Indonesia | Universe Tide | N/A |
| Southeast Asia (English) | N/A | N/A |
[

]