Overview 7 Kingdoms Anecdote Gallery
The 7 Kingdoms section of the Time Diary contains information about each of the 7 Nations of Miraland.
Apple Federation
[
]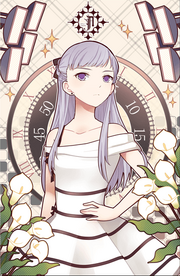 The other biggest nation beside Cloud. It boasts fashionable and modern style.
Notable Locations
[
]
The largest and most populous in Miraland. The Apple style is a simple, fashionable, and modern one. It's called 'a nation built on limited technology and modern fashion'.
Losol: Apple's biggest black market, a self-proclaimed crime center. The famous Sixth Clinic is here.
Welton: The capital of the Apple Federation and center of the government was named after President Welton.
Rosset: A modern, orderly city on the border of Apple and Cloud. It is also the biggest international transport hub.
Wheat Field: A little town bordering Apple Federation and Lilith Kingdom. Nikki started her journey here.
Wisteria: Famous for its Wisteria forest. In every mid-spring, the blooming flowers attract countless visitors.
Rolterdan: Apple Federation's border city to Pigeon Kingdom, famously known for their involvement in the Nine Day War.
Style
[
]
Field journalist
[
]
Journalist Cali from Afacia, firsthand witness of breaking news! Well done Cali, Afacia is proud of you. A day of a steel rose, a female warrior, begins from picking the most appropriate attire. The elegant vintage bow is the highlight of the outfit, the style needs to allow big range of movements, but also be elegant and lovely.
Go, Cali! Bring back more valuable news for Afacia!
Minimalist design
[
]
Known as the 'modern man's outfit', suit is a necessity for every gentleman. Chairman of the Mercury Group, Reid, is no exception. Reid prefers simple designs, gray being the dominant hue without any unnecessary embellishments. The long straight lines are smooth and pure, and its expensive fabric and handmade tailoring give it a soft touch and gentle grace.
Only the real master can see the value of this suit at a glance.
Voyage of Youth
[
]
After years of work work, Timi completed her studies from Cicia Design School. Graduates wear this special 'Voyage of Youth' gown. This gown is cut smooth and is primarily dark. It's accented by golden cuffs and tassels. It looks serious yet lively, as graduation is a blessing for students.
What will Timi think of after attaining love and dreams?
Elegant demeanor of super model
[
]
Just standard business attire, but when worn by Hiber, it gives out a formidable aura. A unisex suit jacket casually strewn over the shoulders adds a touch of cold. As one of Apple Federation's highest paid models, Hiber is an undisputed beauty. And her reason to model for Federal Model Corporation of Mercury Group has always been a hot topic among tabloids. The contract dispute drama is often doubted as a reflection of the emotional dispute between Hiber and Reid.
Love bible
[
]
Toto is a playgirl who collects boyfriends from each of the 12 zodiac signs, also known as a walking love bible. Toto likes to get dolled up every time she goes out. Opportunities are there for those who are well prepared. Toto's favorite dress is quirky and elegant. With a feminine straight shoulder design, which zodiac sign will be most attracted to Toto?
Why hasn't Toto found Mr. Right yet?
Tuxedo Dress
[
]
Kimi's style and attire address her identity as the inheritor of Apple Federation Apparel Group. Overall the style is sharp, simple and elegant, but at the same time intricate in details. This demitoilet only uses black and white colors with lines smooth and simple. The little black bows on the bottom half of the dress and off-the-shoulder design added a hint of liveliness of a young girl.
No wonder that Nikki became a loyal fan of Kimi at first sight.
Warm floral
[
]
The lively and adorable manga artist Annabel, even in an elegant mori-fashion, is still cute. Although a long dress is a mori must-have, Annabel chose the mischievous green floral skirt, tender yet lovely. A perfect match with knit jacket and cute socks. As a manga artist, she has her a keen ability to control the colors. With this lovely look, will Annabel draw many more touching comic stories?
Tailor-made suit
[
]
As a military officer, even when dressed casually, Orlando still cannot hide his handsome and righteous quality of a military man. This luxurious suit with black and white stripes is personally tailor-made for Orlando. The design and cut shows his strong and firm body. The dark blue handkerchief at the chest shows the elegance and attention to detail of a gentleman.
Lilith Kingdom
[
]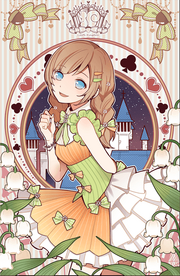 A cute fairyland that heals everything with smile and sweet!
Notable Locations
[
]
Lilith Kingdom was founded by a group of peace-loving top designers, and from there, they developed a unique dreamy, romantic, cute, and fairytale style. The nation is like a fairyland, namely 'a dreamy homeland that heals everything'.
Cicia: Lilith's first city. Possesses the continent's best theatre and Cicia's Design School.
Royal City: Lilith's capital is named so for its royal family. It's the place where Fantasy Styling Contest is held.
Wintermount: Famous seaside destination for travelers. The Designers' Tea Party is held yearly in Wintermount.
Hayden: Named after the famous fairy tale writer Jaxta Seanavel. Earned a reputation as the 'Fairy Tale City'.
Hela Vi: Love's Holy Land Hrawi, the number one destination for lovers and honeymooners.
Style
[
]
Lollipop Girl Dress
[
]
Here comes the popular Star-let [sic] from Lilith Kingdom! Although careless at times, Starlet is absolutely focused on the style! This lollipop kindergarten girl dress perfectly shows Starlet's cuteness! The frame of the dress, low-key and lovely colors, together with the bear bag are all trendy Lilith design elements in Cicia!
A lot of young ladies must be eater to ask: what should I do to become as cute as you?
Prince's casual wear
[
]
Although dressed in casual wear, the charm of Prince Royce still cannot be hidden. Brimming with charisma in every moment, is this a requisite quality of a prince? However, carefully looking at his outfit, it subtlety [sic] shows luxury and superiority. The match of the gigantic blue gem in the chest and the blue earrings marks his extraordinary taste and identity. Upon close examination and appreciation of prince's charm, it becomes clear why Neva has been looking for him.
Lilith civil servant
[
]
As a civil servant of Lilith Kingdom, modern business attire is Yvette's daily dress. Even though it's just a uniform, cute elements are essential. The coat has lace ornaments with shiny silver buttons. Its checkered black skirt is adorned with a bow. Exquisite fabrics and elegant tailoring add some maturity to sweet Lilith girls.
Now that Yvette wears her modern business attire, she is no longer a little crying girl.
Sweet Cake
[
]
Why are girls in Lilith so inconceivably cute? Because they spent their childhood in the fairy-tale kingdom, right? Bobo's favorite one-piece dress is the one her mother gave her on her birthday. The orange and green perfectly complimented Bobo's flaxen hair. The decorative bow made her girdle look especially cute. The layers of lotus petals and cake tails were also essential!
And also, don't forget the most important thing - the cutest and heartwarming smile!
Iceberg servant
[
]
The solemn and serious Neva dressed in a maid outfit...Mmm, there's a surprising mixed sense of conflict and appropriateness. The flounce of the dress and long socks with bows are the essence of a maid's outfit. The dark blue adornment adds a hint of energy to the black-and-white.
Dear Miss Neva, may I please have a glass of strawberry milk?
Cloud Empire
[
]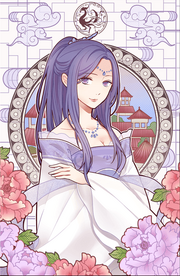 Gorgeous oriental style. The grand city and elegant clothes complement each other.
Notable Locations
[
]
An ancient and powerful oriental country. It is a place where ancient big cities and delicate small towns coexist. People here are skilled in gorgeous oriental style. 'A nation where ancient civilization and new age shine together'.
Style
[
]
Silver Silk Armor
[
]
As the master of the Tiger Clan with brilliant military success, Yue Qianshuang cherishes her dark silk coat and silver armor. It is well designed by Tiger Army, hard and practical. The cape is designed for Snownight Fight. Fur has been added to the elbow, neckline, and waist to keep warmth and for aesthetics.
On the vast snowfield, Yue Qianshuang valiantly rides her horse, long hair stirring in the wind.
Light Cloud Armor
[
]
Zhong Lizi was always seen dressed in a scholarly sky-blue robe, designing clothes of all the latest fashions for his love. But now with the current national crisis, he wears dark steel armor for the battlefield, and somehow it surprisingly suits him well. Dark steel armor protects a warrior's body, cloud and dragon patterns inspire a triumphant. He chose the frontier's northern wind and snow, only to protect the cloud Empire and the one behind.
Cloud Watercolor Commander Uniform
[
]
War Commander Zhu Ruosheng of the Power Phoenix wears an outfit embroidered with clouding and water patterns, which blends with Ruosheng's regal position and peaceful temperament perfectly. The outfit was designed to combine patterns from minorities in the South with finest silk embroidery. Fine and elegant, majestic and luxury, this is the style of Power Phoenix.
Green smoky feather sash water stripe shirt
[
]
At first glance, Fu Su could be mistaken for a celestial being. This smoky jade water ripple jacket was developed over many years in the an [sic] Ancient Pavilion. The elegant soft robe has a thin waist with a ribbon and delicate partly hidden floral pattern. It's as if the body is shrouded in flowing water. A light breeze blows and the skirt flows like a floating fairy.
Soft Azure Dress
[
]
Ming Shuiyuan, the master of the Deep Ocean, is soft spoken. She is fond of simple clothing, always wearing an aquamarine dress. This dress is cut to accentuate the curves of its wearer. It is graceful yet dignified and generous. Its color is fresh and elegant.
Dancing in the warm breeze is such a beautiful scene to see.
Hibiscus Petal dress
[
]
Lunar - heiress of the Silk Shop, [sic] showcases the sacred Lotus Calico Dress and its celestial quality, making her a goddess in a painting. The material used is a fabric that is unique to Silk Shop - light as feathers, flowing list water. The lotus pattern around the chest highlights the designer's superior techniques. The accessory around the waist made of red-bean pearls accentuates her femininity. Like a poem, like the moon, like water, like the lotus flower.
Azure dragon court dress
[
]
With close attention to the Azure dragon court robe on Bai Yongxi - majestic and composed, whose extremely intricate details not all make people feel messy. Obviously the technique of its designer has reached perfection. The dragon ring around the waist resonates with the necklace, unveiling the powerful and far reaching background of the clan of Dawn Dragon.
We can only imagine how luxurious the attire Bai designs for the Top of Cloud would be.
Silver Flower Dress
[
]
As a member of Cloud Bai Clan, Bai Jinjin often dresses in fashionable Apple attire. However, when she puts on the Mesmerising her mother designed. The gentle and elegant combination of light purple and gold, the perfect cut, the stunning peony adornment presents Bai Jinjin's high-class charm.
A gentle smile like the sunshine on a snowy morning. Perhaps this is what Zhong Lizi fell for.
Plum Embroidered Gown
[
]
Ask which dress is both elegant and luxurious, and the people of the Cloud Empire will think of South Kingdom Empress [sic] Zhu Yuxian's golden coral silk gown. The plain white gown is accented with shiny red plums. A bright red satin belt is layered upon the waist.
He is truly royalty.
Pigeon Kingdom
[
]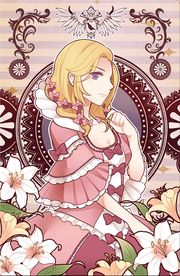 A magic kingdom that is both fantastic and sacred. People here advocate complex and fantasy style.
Notable Locations
[
]
Pigeon Kingdom is founded in the south part of Miraland. Its residents prefer complex magic style. It's 'a holy fantasy kingdom where the elves, dwarves, humans, and goblins live in harmony'.
Heidi: Located in Pigeon Kingdom's northern plains and retain their pastoral traditions.
Ymilan: Pigeon Kingdom's Library is famous throughout the continent. It is said any book can be found here.
Linsol: A small town of southern Pigeon, famous for its champagne named Blossom of Abney.
Style
[
]
Adorable Scholar
[
]
The dwarf Debbie is a special one in Iron Rose Legion, her pure and lovely appearance has stolen many hearts. 'Debbie, save the competition, just tell me what you want.' Hey, that's not correct, Debbie has to use her strength to complete the quest. The books beneath her feet are also part of her ability.
But, Debbie, the pink lace below your Scholar's Gown still exposes your cuteness.
Forest Guardian
[
]
The guardian of Pigeon Forest, the prince of the Tree Elf family, Prince Chloris. Awaken [sic] from a 100-year sleep, his coldness and power are just like 1000 years ago. The adornment between the eyes, the feathers hanging from his body, an attire specially designed frame, no one else can own this look apart from the elf prince.
You are a tear in the Bhowali lake, you [are] the calling of the warm wind across the trees, you are the son of the forest.
Rose Mask
[
]
Talented dancer, Sofia even when in her thief outfit must have a rose embellishment, as if the night is her stage. A cape makes her thievery even more mysterious. A rose fedora highlights her pride and elegance. Sofia is always in a pair of high heels even on the job, confident and chic. For Sofia being a thief is her family's fate, but lives out her dreams on the stage. After a long period of conflict Sofia's found her way.
Knight's Armor
[
]
Ace dressed as a knight is hundred times more handsome than once imagined. On top of the handsomeness of the attire, the design in details is showing the spirit of a young woman. The purple gems embedded not only match Ace's hair color, but also make the armor more attractive. The bottom of the skirt is another highlight. Nevertheless, the charm of Ace is incomparable by the ordinary.
Ace, you are likely a sharpened blade, stabbed into the hearts of many.
Classic ceramic
[
]
Does grey-blue or golden brown best suit ceramic doll Sherry? People will have different opinions, but one thing we can agree upon is that Sherry is always cool and aloof no matter how she's dressed. She fits the vintage-cut long dress perfectly with her height and endless legs. Her silver long hair is eye-catching. Beautiful and elegant, even when hidden in the Iron Rose, she still has everyone's attention.
North Kingdom
[
]
A nation bathed in storm and fire that excels at arctic and neutral style.
Notable Locations
[
]
A nation that honors military stands in the north. People excel at arctic and military style. Its architecture features solemn stronghold, majestic black stone keep, etc. It's commonly known as 'the nation bathed in storm and fire'.
Style
[
]
Dark Night Judge
[
]
The mark left by where a person was born is permanent. When Lilith's look of Prime Minister has become symbolic of Nidhogg, even after putting on the northern military uniform, his charm still goes with it so naturally, one cannot help to praise and admire - the real Nidhogg. He is mesmerising like the dark night, he is sharp as the cutting edge of a blade.
The smile of Nidhogg, is it buried together with the memories of Lilith's departure?
Silent Northern Wind
[
]
In this age, everyone must face their own fate. Louie removed his uniform and put on his northern casual clothing. What's in his mind when he steps onto Cloud's earth? The warm and tight leather and ribbon tell people his northern identity. The dark color seems to foretell the rugged road ahead.
There is great pain in his heart, but he has not much time to feel it. The North needs its loyal soldier only.
Night Shade
[
]
Carrying his sniper rifle, wearing his hood, he seems to be a simple symbol, just a simple Tyre Coalition shooter. The night comes, he blends into the night. A ghost, alone in the dark. Two questions come up about the Shade are: where does it come from? Where will his gun point towards?
He wakes up from death, and there is only a vague Shade in his memory. The temperature in the chamber is his only connection with life.
Taiga Fire
[
]
The red-haired Ozeca is from Whith [sic] Stone City and a Frost Hawk soldier. White Stone City bears the memory of that extraordinary years of legends and epics. The red-haired Ozeca is like a sizzling fire in the tundra. Many believe that after joining Tyre, the Frost Hawk is no longer army as formidable as they, but Ozeca still holds tight to her goal.
She will finally have prove that the blood of Frost Hawk will survive on in Whith Stone City.
Republic of Wasteland
[
]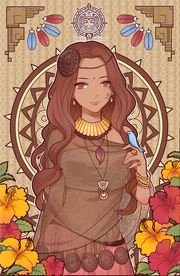 A tribal nation with ancient culture. They favor bright, dynamic style with bold patterns.
Notable Locations
[
]
The Republic of Wasteland lies in the southwest corner of Miraland, secluded from other countries by Ulpa Mountains. The people value nature and deity, and advocate original style. It goes by the name of 'a natural nation covered by ancient original civilization'.
Style
[
]
Tribe Prince
[
]
Tuda, a boy of the Pota tribe, has style that is the highlight of the wasteland. When working and training outside, he wears a tight vests and shorts woven with feathers and rope. His playful facepaint identifies him as the chief's son and is an important decoration for the people of the wasteland. The colorful feathers are braided into his short hair. Perhaps birds will respond to his calls?
After Tuda headed North, he indeed changed into warmer clothing!
Tender Desert
[
]
Girls of the wasteland worship nature and their own bodies. Their style and fashion sense complement their curvy figures. Different from other wasteland styles, this seems to have 'more fabrics' but the transparent robe adds more appeal. The high-waist dresses accentuate their long legs.
Don't bother going to the wasteland to study unless your figure can compare to theirs!
Ruin Island
[
]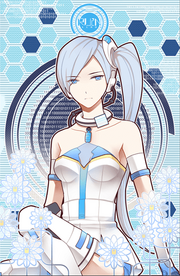 A remote isle country driven by advanced technology. Their style is simple and futuristic.
Notable Locations
[
]
A tomorrow land built on the industrial ruin, isolated by ocean from the continent. Technology has been permeated into every corner of daily life, style is no exception. With the simple futuristic style, Ruin is known as 'a nation of future driven by advanced technology'.
Style
[
]
Low Frequency Pulse Treatment
[
]
Although disguised as a medical member, the small demon wings on her back completely exposed the designing purpose of the outfit! Living in the high-tech Ruin is cozy, yet people need to be wary of technology at all times! For technology is indiscriminate and can be used by evil to cause disasters! Demons disguised as young girls walking amongst citizens of Ruin Island, play electric rods. Everyone must be alert!
Core Nano Tech
[
]
Alas, the Ruin attire seems to change Neva into a tsundere awkward black cat? Word goes that this high tech outfit is made of nano-material that can automatically suit human body. And the tail is actually a sensor connector which can receive updated promotion information no matter where you are.
News says the suit is out of stock already!
Devilish White shirt
[
]
The Red Cross of the Sixth Clinic lighted up again, and the demon lurks in the dark. The bloody cross is Gray Raven's best disguise. He reaped the souls of the operating table precisely and generously offered them the equivalent of hope. No one knew what had he cut with his cold scissors, and he had so many secrets.
If Ruin was the cage to imprison wisdom and soul of the genus, then, the Miraland is the birthplace of this trembling white devil.
Sexy Guide
[
]
How can one imagine that a Ruin suit could be this sexy? This outfit bears a close resemblance to sexy characters in video games; but, wait, isn't this the Photon in the game 'Galactic Shuttle' by Nico Studio? 'Do you want to fully immerse yourself in high-speed galactic travel? Blaze a path with Photon!'
The temperature in galaxy could change easily at any time, be sure to check your temperature control system.