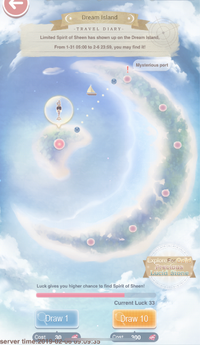 Time-Limited Spirit of Sheen Events are reoccurring events in which a Spirit of Sheen appears in the Dream Isle for a limited period of time. Drawing from the Dream Isle pavilion using

will reward Dazzle Stones

and Stones of Shadow

, and add a point to the Luck Meter. After a certain number of pulls, the player will unlock the Spirit of Sheen, allowing them to play through a character's Dreamland. The Dreamland will be available to play through and read even after the event is over.
Time-Limited Spirit of Sheen events return, but the luck bar starts from zero.
Events
Community content is available under
CC-BY-SA
unless otherwise noted.