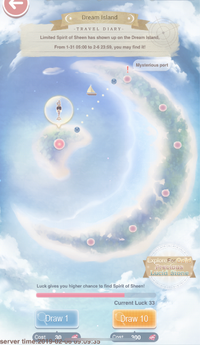 Time-Limited Spirit of Sheen Events are reoccurring events in which a Spirit of Sheen appears in the Dream Isle for a limited period of time. Drawing from the Dream Isle pavilion using

will reward Dazzle Stones

and Stones of Shadow

, and add a point to the Luck Meter. After a certain number of pulls, the player will unlock the Spirit of Sheen, allowing them to play through a character's Dreamland. The Dreamland will be available to play through and read even after the event is over.
Time-Limited Spirit of Sheen events return, but the luck bar starts from zero.
Date
Spirit of Sheen
Character
Dreamland
January 1st to January 7th, 2019
Deer's Whisper
Fu Su
Past in Flower Field
August 11th to August 17th, 2019
January 31st to February 6th, 2019
Night Prelude
Sofia
Blade Waltz
September 18th to September 24th, 2019
February 19th to February 25th, 2019
Memory Spark
Kimi
Time Sparkle
October 15th to October 31st, 2019
April 20th to April 26th, 2019
Beginning of a Long Night
Louie
Nameless Knight
January 14th to January 20th, 2020
June 21st to June 27th, 2019
Blue Sky Chant
Bai Yongxi
Annal of Ages
November 7th to November 13th, 2019
Destined Twins
Chloris
Moon Night Poem
December 2nd to December 8th, 2019
Original Will
Kimi
Brilliant Start Point
Community content is available under
CC-BY-SA
unless otherwise noted.