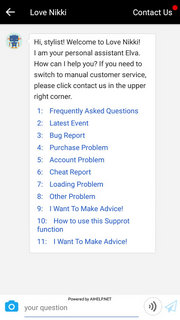 Love Nikki Support is a way of reporting and resolving glitches and errors in the game.[1]
Fix Button
[
]

Before contacting support about a glitch or error in your game, it is recommended to try using the Fix Button. It can be reached by doing the following steps:
Restart the game by closing the app and opening it again, so that you are on the loading screen.
After the event notifications come up but before tapping to enter the game, press the green button in the upper right hand corner. It is the second button down and it says "Fix" with two sparkles.
The next time you enter the game, see if your issue has been resolved.
Contacting Support
[
]
If the fix button does not resolve your issue, you can contact support by doing the following steps:
Click your avatar in the upper left corner of the screen on a map or the town view.
Click the blue Settings button in the upper right corner of the screen.
Click "Support"
Click on the upper right corner where it says "Contact Us". It may instead show a blue question mark.
You can then chat with a member of the support team about resolving your issue.
Note: They may take a few hours or longer to respond. You can leave the support screen and return back to the conversation at any time, but there is no notification to show that they responded to your message. You must manually go back and check on the conversation.
Issues attaching images
[
]
The support team may ask you to attach an image of your issue. Sometimes attaching an image may not work the first time. Try exiting out and returning to the chat and trying again.
Email support
[
]
You can also contact email support by emailing cs1nikkigame@gmail.com.
Common Issues and Fixes
[
]
Feel free to add to or edit this section, or leave a comment on this page, if there are any more.
Missing certain items
[
]
Some items are meant to be given out for free to players at the beginning of the game, but for various reasons the players may miss those items and have no chance to get it again. These items include:
If you are missing these items, please contact Support and they will send you the items.
A stage is prompting me to enter multiple outfits when it shouldn't
[
]
It's believed that this glitch happens when the last stage played is a story stage with multiple outfits. The story stages that have multiple themes are 9-6 Serial Competitions!, 9-9 One-piece Dress, and 10-9 Past the Group Games.
"Clothes Illegal"
[
]
This glitch can appear in Starry Corridor when creating a group picture or in Association Style Contests (also known as Sand Skirmish). What it means is that the other person's clothing that they had set includes an item they no longer own. They may have customized it so that they lost the original color that was included in the set outfit.
Another cause for this can be that they had the item Riptide, a right-handheld item that was previously classified as left-handheld, equipped as a left-handheld item.
Any item from the Star Fantasy suit - including the free skin Virtual Image - and anything from the Summer Dusk suit could cause this bug, but it should now be fixed.
My stamina just went down/I have 4 stamina but it says insufficient stamina
[
]
There is a display error with stamina that sometimes shows you as having one more than you actually do. It will then adjust to fix itself naturally while playing, which makes it appear that your stamina has "gone down" by one. There is no fix to this, but rest assured it is only a display error and the game isn't stealing your stamina.
References
[
]
Notice:
For issues with your game account, please contact official Love Nikki Support ingame or through the email cs1nikkigame@gmail.com as described above.
The maintainers of this page can only offer advice, and cannot fix any ingame issues; they are fans, just like you.