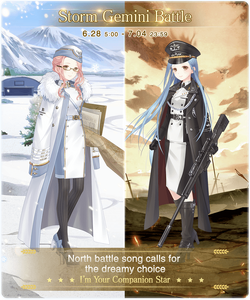 Storm Gemini Battle was an event that ran from June 28th to July 4th 2019.
Fantasy Envoy shows up in the North Kingdom. Witness the karma of twin stars on the battlefield, collect Seal of Ice and Fire, and tap the suits below to exchange unique military uniforms!
Players will be shown two outfits and a styling theme. Choose the outfit you think would score better for the theme to gain Seal of Ice and Fire
. Exchange the
for pieces of the Fiery Front and Winter Battlefield suits from the Northern Kingdom. Five
are awarded for choosing correctly and three
are given for choosing the wrong outfit. Players get ten free attempts every day and more attempts can be bought for 20

each.
Total Cost: 273
Suit Completion Rewards: 30

.
Total Cost: 273
Suit Completion Rewards: 30

.
Themes
Note: Scores are based on attributes.
Memory of Being by the Sea With You
Nikki's Promotion Story
Early Summer Encounter
Dreamlike Journey in Miraland
Meet You Again in Parting Spring
Community content is available under
CC-BY-SA
unless otherwise noted.