This page contains content from Shining Nikki!

The information in this page is derived from the game that comes after Love Nikki-Dress Up Queen!, Shining Nikki. As such, it may contain spoilers to the story and/or information about features that don't appear in Love Nikki.
For a wiki dedicated to Shining Nikki and its features and outfits, please visit the new Shining Nikki Wiki.
Rosset is a city in Apple Federation near the Cloud Empire. It is best known for being an international transport hub.[1] It is also home to the research group known as the Rosset Research Institute.[2]
History
[
]
Rosset's train station connects to the Wasteland and Cloud City.[3] Its rail lines going to Western Cloud were shut down after North Kingdom attacked Cloud in 680, with the exception of the military train line.[4] Nikki and her friends entered Rosset through the Wasteland line[3] and departed to Lor River City using the military lines.[5]
Every year, Rosset holds a race called the Miraland Speed Challenge.[6] The Apple Federation Apparel Group is one of the sponsors of the race, so Nikki attended with Kimi.[6] They also saw Kaja, Mela, and Annabel while they were there, and got to meet Joey, an underdog racer, and Ailinda, a navigator from another team.
Locations
[
]
Rosset is described to be an industrious city connected by an interlinking web of roads. Its wide main street has high-rises on each side.[7][8]
Rosset is best known for its large train station in the year 680. It also has a racetrack, where the Miraland Speed Challenge is held annually.[6]
Map
[
]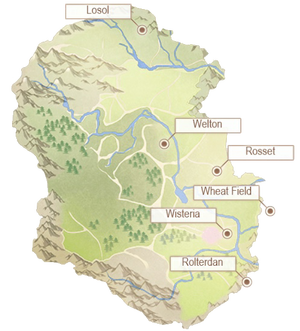 Name by Server
[
]
| Version | Name (Romanized) |
| --- | --- |
| International (English) | Rosset |
| International (French) | Rosset |
| China (Simplified) | 罗塞 (Luōsāi) |
| Taiwan/Hong Kong/Macau (Traditional) | 羅塞 (Luōsāi) |
| South Korea | 로제 (Ro-je) |
| Southeast Asia (English) | Rosset |
Gallery
[
]
References
[
]
[

]