Rose Glow is a set of Story Suits. Suits can be obtained from the Rose Glow Event.
Completion Reward: 50

and Mystery Eye avatar frame.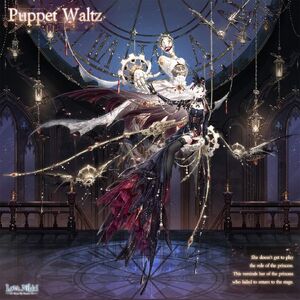 Hear the command, silent rose.
The queen's bull has arrived,
waiting for people
to offer their loyalty.
Hear the command, silent rose.
Play a rousing wary cry,
to the rhythm of the thread,
dance the perfect dance.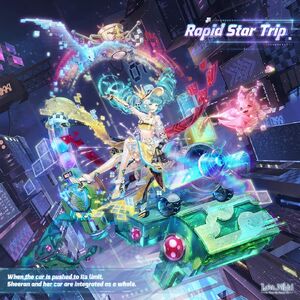 Go forward, free rose,
seize enough power,
never look back.
Go froward, free rose,
sound the horns of departure.
explore the new world,
amongst splendid neon lights.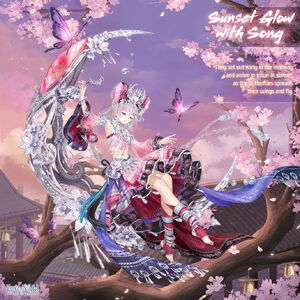 Sush, the butterfly sleeps,
and maybe is immersed
in sweet dream.
How is the world in the dream?
Silky breeze, bubbling streams,
blooming flowers, lark singing,
Just sleep, like this,
become a dancing butterfly.
But please remember my name,
my name,

Besan

.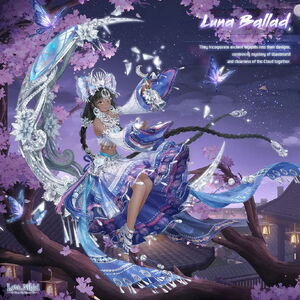 Listen, the butterfly sings,
singing of the flower
and the breeze.
The singing flies up to the sky,
becomes clouds, becomes birds,
turns to the stars,
lights up the night.
Are these all just a dream?
I'm the butterfly in the dream,
Who is calling my name lightly?
My name,

Bestt

.
Curious Heart
[
]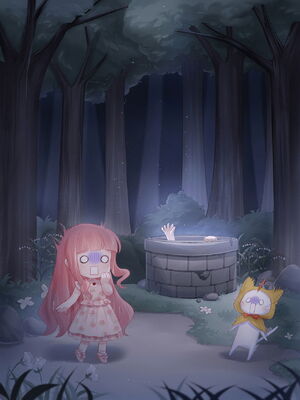 The creepy forest is silent,
only echoing the traveler's
careful steps.
To go forward or simply give up,
the doubts linger
around the heart.
There may be dangers
in the unknown world
but there is also possibility
of meeting a wilder universe.
Night Tea Party
[
]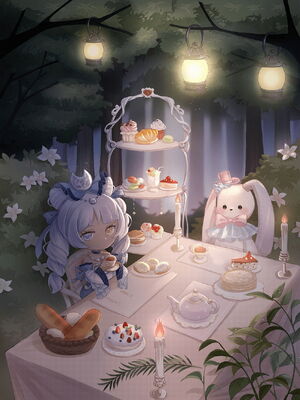 The tea-spoon
ding-dongs in the cup
as the charming aroma of
the dessert drifts in the air.
The doll bunny carries
a cunning smile and
sings a nursery rhyme
from the ancient times.
It's raining! It's raining!
The butterfly hides
under a banana leaf.
Dim Night Sky
[
]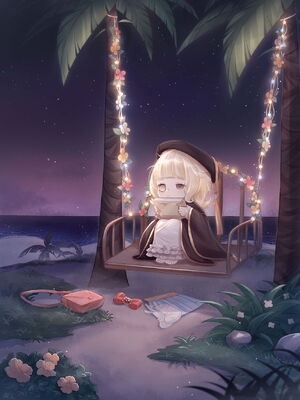 The night is starless,
a floating cloud plays
hide and seek alone.
Disappear now,
annoying darkness.
Disappear now,
and hide in my heart,
this dreadful mood.
Rose Assemble
[
]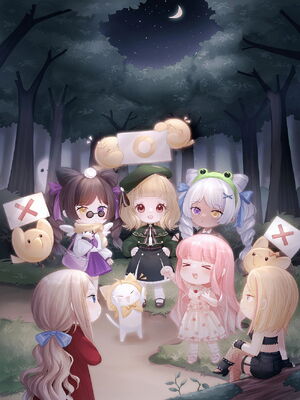 The wind passes lightly,
the river chimes happily
Listen, listen,
the magpie on the
branch speaks loudly:
The God of Spring has come!
The leaves heard and
rustle an ode.
The fishes heard and
dance lively.
Etymology
[
]
Name by Server
[
]
| Version | Name (Romanized) | Translation |
| --- | --- | --- |
| International (English) | Rose Glow | N/A |
| Japan | 薔薇の輝き (Bara no kagayaki) | The Brilliance of the Rose |
| Southeast Asia (English) | N/A | N/A |
[

]