"You... do you think we look a bit similar?"

This article is about the event. For the shoes, please see Rose Castle (Shoes).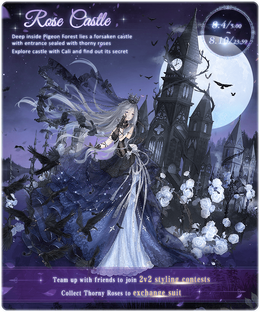 Ran from August 4 to August 10, 2019.
Deep inside the Pigeon Forest lies a deserted castle. Adventure into it with Cali and finds out the secret of it. Team up to complete quests and win event tokens to exchange suit.
Players will be shown a styling theme each day. Choose a partner and battle two other stylists to collect Thorny Rose

. You get 5 for winning and 3 for losing. Collecting a certain amount of

will allow you to obtain rewards like

,

, and pieces of the Night Adventure and Night Rose Bride suits. You are given 5 free attempts daily and more attempts can be bought for 24

each.
1 - Midnight Rose Bloom
Edit
The rose is beautiful but thorny. Wear pure and elegant clothes to enter the ancient castle
2 - Sunny Garden Illusion
Edit
The day and night shift in a blink. A pair of gentle eyes found a naught lively girl
3 - Rose Fairy's Secret
Edit
The dignified and graceful girl lifts her hand and the white roses bloom instantly.
4 - Bustling Market
Edit
In the market, the man bought a rose hair clip and put it on the innocent cute girl's hair.
5 - Moonlight Promise
Edit
On the balcony, the man kneels on one knee and made a promise to the girl in an exquisite suit.
6 - Firm Faith
Edit
A great army stands silently outside the castle. The resolute mature man steps on the road.
7 - Full Moon Bride
Edit
In cold moonlight, the girl in an exquisite beautiful wedding dress is waiting for her love.
Collection Rewards
Edit
Community content is available under
CC-BY-SA
unless otherwise noted.