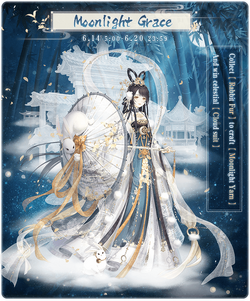 Runs from June 14th to June 20th, 2019.
The full Moon a symbol of reunion in the Cloud. Bai Jinjin is preparing gifts for her friends. Collect Rabbit Fur to make Moonlight Yarn, and Bai Jinjin will reward you an elegant suit!
Complete Journey stages to collect Rabbit Fur

. Use the

to make Moonlight Yarn. Each Moonlight Yarn requires 5

. You will be given 5 free chances to make a Moonlight Yarn per day and can buy more for 24

each. Collecting a certain amount of Moon Yarn will allow you to obtain parts of the Moonlight Muse suit.
Collection Rewards
Edit
Community content is available under
CC-BY-SA
unless otherwise noted.