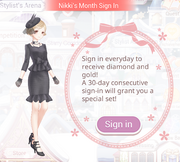 The Monthly Sign-In can be claimed every day. You are given 3 chances to recover a sign-in and the cost of recovering will change depending on VIP level. Once you catch up with the server, you will not be able to recover a sign-in.
The "month" in monthly sign-in refers not to a calendar month but rather to 30 days of rewards. Every day the player can collect a free reward, leading them to the next reward. Missing a day will not cause the player to "skip" a reward. For example, if sixty days passes with a player logging on once every other day (thirty days total), they will have completed one month of the monthly sign-in.
There is a new suit for every month you play. A part of a suit can be obtained every 5 days. Most of these suits are Hidden Suits, with the exception of the first one, Cinnabar Cloud.
Prizes to claim
Edit
Each month has thirty days with six items. At certain V-levels, certain prizes are doubled.
5000
V1 Double
50
.
20
V2 Double
10
V3 Double
Item
.
8000
V4 Double
100
.
20
V5 Double
10
V5 Double
Item
.
8000
V6 Double
50
.
20
V6 Double
10
V7 Double
Item
.
10000
V7 Double
100
.
30
V8 Double
10
V8 Double
Item
.
10000
V9 Double
50
.
30
V9 Double
10
V9 Double
Item
.
15000
V10 Double
150
.
40
V10 Double
20
V10 Double
Item
.
V level sign in discounts
Edit
Each VIP level has different costs for each of the three catch ups available.
| V Level | First Catch Up | Second Catch Up | Third Catch Up |
| --- | --- | --- | --- |
| V1 | 50 | 100 | 100 |
| V2 | 50 | 100 | 100 |
| V3 | 50 | 100 | 100 |
| V4 | 50 | 100 | 100 |
| V5 | 50 | 50 | 100 |
| V6 | 50 | 50 | 100 |
| V7 | 50 | 50 | 100 |
| V8 | 30 | 50 | 100 |
| V9 | 30 | 50 | 100 |
| V10 | 30 | 30 | 50 |
| V11 | Free | 30 | 50 |
| V12 | Free | 30 | 50 |
| V13 | Free | 30 | 50 |
| V14 | Free | 30 | 50 |
| V15 | Free | 30 | 50 |