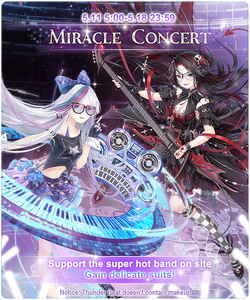 Season 1 ran from May 11th to May 18th, 2018.
Season 2 ran from December 24th to December 30th, 2018.
Head to the venue and draw in the event pavilion to collect Glow Sticks

. You will have a free draw every day and additional chances can be bought for 30

each. Each draw will return

,

, or

. Collecting a certain amount of

will allow you to obtain one of the 5 event suits and an avatar pendant (Glow Stick

) that lasts for a certain amount of hours.
Tornado Rhapsody will drop by the third milestone, and Demon Lament will drop by the fifth milestone.
Note: This event will come back with higher milestones. Your current progress will be saved.
If you have already reached a node in the previous season, reaching it again will not give any rewards.
See also: Minor Subplots/Miracle Concert.
Milestones
Season 1
15, 40, 90, 150, and 235
Season 2
20, 45, 95, 160, and 245
Suits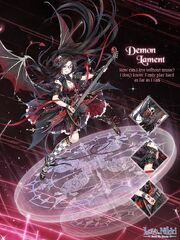 Suit Completion Reward: Demonic Wind, Demon Lament, All the Best, Super Stage, Heart of Rock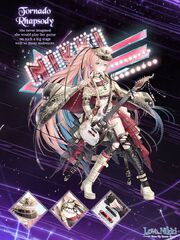 Suit Completion Reward: Tornado Rhapsody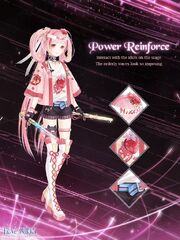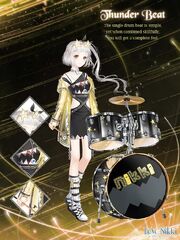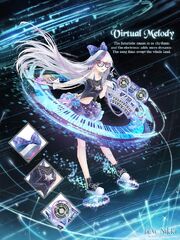 Suit Completion Reward: Virtual Movement, Samsara Keylight, Dream's Border
Video
Community content is available under
CC-BY-SA
unless otherwise noted.