Long Street is a street at the base of Mount Mango in Cloud Empire.
History
[
]
Nikki and her friends passed through Long Street on their way to Moonlit City in the year 680. While they were there, they went to the Moon Inn to get a bite to eat,[1] and ran into Bai Jinjin and Zhong Lizi, who were hiding from Bai Jinjin's family.[2] However, her father's men came for her while they were at the inn, and Nikki switched places with her while they got away.[3] This resulted in Nikki almost being kidnapped,[4] but the owner of the inn, Lu Yinian, appeared just in time to fight them off.[5]
Locations
[
]
Moon Inn
[
]
The Moon Inn at the end of Long Street is run by Lu Yinian. The inn serves delicious home-cooked food.[1]
Additional Locations
[
]
Map
[
]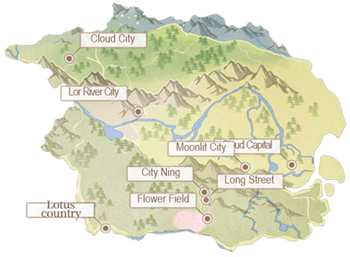 Name by Server
[
]
Version
Name (Romanized)
Translation
International (English)
Long Street
N/A
International (French)
La Rue
The Street
China (Simplified)
云端长街 (Yúnduān zhǎng jiē)
???

Taiwan/Hong Kong/Macau (Traditional)
雲端長街 (Yúnduān zhǎng jiē)
???
Southeast Asia (English)
Cloud Street
Mount Mang Long Street
N/A
Trivia
[
]
Gallery
[
]
References
[
]
[

]