Raise a Floppa - The Loop
Play Sound
Overview Suits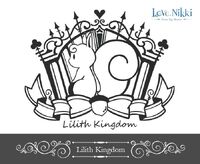 "
Lies on the eastern coast of Miraland, Lilith Kingdom may be the smallest country in mainland. The climate is warm and humid throughout the year, very suitable for living.

This tiny country was established by a group of peace-loving top designers and developed a unique style full of dream, romance and fairy tale. Going through Lilith's cities is like visiting a lovely and romantic fairy tale world. People living in a fairy tale kingdom must be pure and cute - they really are.

Absolutely "the dreaming fantasy paradise that can cure anything"!

"
Lilith Kingdom is one of the 7 Nations. It lies on the eastern coast of Miraland. It used to be ruled by Queen Nanari and is now taken over by her younger brother, King Royce, after her disappearance. It is represented by the color pink and is known for its lolita and fantasy design. Squirrel is its national treasure.
According to the Time Diary, Lilith Kingdom was founded by a group of peace-loving top designers, and from there, they developed a unique dreamy, romantic, cute, and fairytale style. The nation is like a fairyland, namely 'a dreamy homeland that heals everything'.
Lilith Kingdom is represented by an emblem of a squirrel sitting before a large gate decorated with playing card symbols. A long ribbon sits beneath the squirrel with an acorn in the middle.
History
[
]
Star Era
[
]
50 years before the Star Era began, the holy city of Ninir was founded.[2] At some point afterwards, it is assumed that the city failed or people left.
In the year 800 of the Star Era, peace-loving designers from Cloud and Pigeon who were tired of war came together in the ruins of Ninir to rebuild and create a nation there. Many pacifists came to Ninir, and it became known as a neutral nation for artists.[2][3]
New Era
[
]
In year 0 of the New Era, Ninir changed its name to Lilith. Though the reasoning for this was apparently lost to Miraland's historians,[2] it is suggested by the narrative that it was renamed to Lilith Kingdom to honor the queen at the time, Lilith.
Year 680
[
]
Lilith Kingdom was ruled by its queen Nanari; however, she abdicated due to sickness.[4] She appointed Nidhogg as Prime Minister of Lilith to handle political affairs.[5] However, during the Fantasy Styling Contest of the year 680, Nidhogg rebelled against the kingdom and Nanari went missing,[6] resulting in her brother, Prince Royce, assuming the throne.[7]
Maps
[
]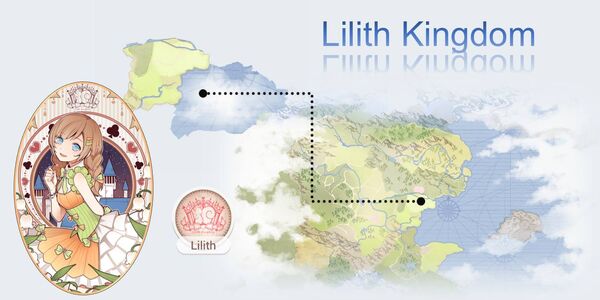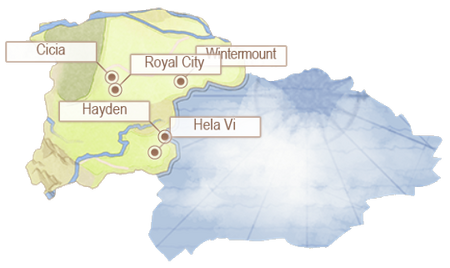 Notable Locations
[
]
For a list of all locations, please see Lilith Locations.
Characters
[
]

Bobo
The best friend of Nikki and her guide around Miraland.

Yvette
The former secretary of Prime Minister Nidhogg, who is aiming to bring him to justice.

Royce
The current King of Lilith, who ascended the throne after his older sister went missing.

Queen Nanari
The former Queen, who went missing after Nidhogg's rebellion.

Neva
Royce's assistant and bodyguard, who dedicated her life to Queen Nanari.

Starlet
A wedding dress designer and fortuneteller who has a tendency to get lost.

Lisa
A mysterious agent of the Lilith Government who worked for Nidhogg.

Star Seer
An astrologist who mentors Starlet. She has an interest in Nikki's connection to Hostess L.

Hayden
The famous writer of Evernight's Dream, as well as a number of other fairytales.
For a list of all characters, please see Lilith Characters.
Organizations
[
]
Name by Server
[
]
| Version | Name (Romanized) | Translation |
| --- | --- | --- |
| International (English) | Lilith Kingdom | N/A |
| International (French) | Royaume de Lilith | Kingdom of Lilith |
| China (Simplified) | 莉莉斯王国 (Lìlì sī Wángguó) | Lilith Kingdom |
| Japan | リリス王国 (Ririsu ōkoku) | Lilith Kingdom |
| South Korea | 릴리스 왕국 (Lilliseu Wang-gug) | Lilith Kingdom |
| Indonesia | Kerajaan Lilith | Lilith Kingdom |
| Vietnam | Vương quốc Lilith | Kingdom of Lilith |
| Southeast Asia (English) | Lilith Kingdom | N/A |
Ninir
[
]
| Version | Name (Romanized) | Translation |
| --- | --- | --- |
| International (English) | Ninir Kingdom | N/A |
| China (Simplified) | 妮妮尔王国 (Nīnīěr Wángguó) | Ninier Kingdom |
| Taiwan/Hong Kong/Macau (Traditional) | 妮妮爾王國 (Nīnīěr Wángguó) | Ninier Kingdom |
| Southeast Asia (English) | N/A | N/A |
Trivia
[
]
Additional Links
[
]
References
[
]
[

]