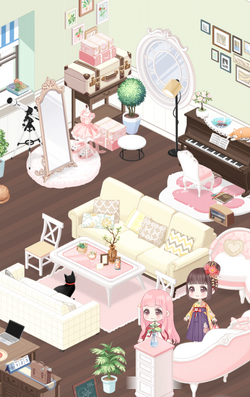 The Home feature is an aspect of the game that allows the player to customize and design their own house. The houses are purely decorative and do not currently serve a function in the gameplay. They are unlocked upon completing V1: 4-1 Rainy Seashore City in Maiden.[1]
The furniture store allows the user to purchase furniture with Heart Tickets

, Gold

, or Diamonds

. This furniture, similar to the Clothes Store, does not disappear.
The wish courts allow the user to draw from a pavilion, or "wish", to gain furniture and gold

. There exist both long term and limited time pavilions, which each offer the user 1 free wish and 5 discounted wishes after 48 hours.
Group Buy is available to those in a community each Saturday and Sunday. For the duration of each day, if at least two of the four members put a down payment on one of the four offered objects, they will be able to gain the item for a discounted price by paying the rest the following day. The Group Buy feature offers two pieces of furniture from the Users Furniture shop as well as two items limited to group buying. Group buy selections are different for each community.
The user can decompose furniture items they do not desire for Dream Branch, Shadow Gauze, and Light Stone. These elements can then be combined in various proportions on the Craft screen in order to obtain a furniture item corresponding to the materials used.
There are no guaranteed results in Furniture Crafting; however, the recipes that result in a particular item are saved in the memory, allowing the user to try again if they want to obtain the same item. Different combinations of materials will influence the item gained.
The player can gain Heart Tickets

by completing Life Bits. There are three options, each spanning various amounts of time and giving different amounts of Heart Tickets. After selecting an option and waiting the amount of time specified, you will be able to retrieve the tickets.
| Amount of Time | Tickets Gained |
| --- | --- |
| 4 Hours | 10 |
| 8 Hours | 20 |
| 24 Hours | 60 |
Joining a community allows the user to give and receive extra Heart Tickets

every day. Each community can hold four people. If a player is inactive in a community for 15 days, they will be automatically removed from the community.
On the community screen, you can visit the other members by clicking the pink Visit button below their names. At their home, if they are currently doing Life Bits, you will be able to do Life Bits in their home as well. Doing Life Bits in someone else's home is instant, and you will get 2

.
The other player will also get 2

when they finish their own life bits, as well as the ones they would normally gain. If all three of the other members of your community do Life Bits in your home, you will be able to get 6 extra Heart Tickets

when you finish your Life Bits. For example, if you had the 24 Hour Life Bits going, you would end up with 66

rather than 60

.
This means that if you do Life Bits in all 3 of your community members' homes and they also do Life Bits in your home, you will get 12 extra

each day.
Joining a community also allows you to participate in Group Buy and Community Tea Party.
You can visit any of your friends or association members at any time you want. You can also Wander, which allows you to visit a random player's home as long as they have moved it from the default state.
You can like or comment on another player's home by using the buttons at the bottom left of the screen. The player will be able to read the messages the next time they return to their house. You can read comments left on your home by clicking the BBS button in the bottom left of your own home.
For more information, see Home Stylist.
Home Stylist is a feature that allows players of Love Nikki to decorate each others' rooms through a system of commissions.
Homes all have levels that determine the capabilities of their home.
House Level
Description
Capabilities
Requirement
Level 1
Warm Hut
Own 1 clothing item
Level 2
Refined House

Open floor 2
Unlocks furniture: Stairs
Furniture Gift: All about Steel
Unlocks Community Function

Own 300 clothing items
Level 3
Deluxe Villa

Open floor 3
Unlocks furniture: Kitchen, Bathroom
Furniture Gift: All about Steel
Transportation Gift: Youthful Journey

Own 1000 clothing items
Level 4
Deluxe Villa
Own 1000 clothing items
Level 5
Deluxe Villa

Unlock the 5th floor
Can unlock room function
Furniture Gift: All about Steel

Own 1000 clothing items
There are three vehicles you can choose to display outside of your house on the Town screen that are purely cosmetic: Low-carbon (Bicycle), Youthful Journey (White Car), and Long Vacation (Motorbike).
You can have up to ten rooms in your home, with 5 stories and 2 rooms on each floor. Each costs diamonds to unlock, except for Room 1-1, which is free, and Room 1-2, which can be unlocked for free upon purchasing 5-1.
The player can navigate through rooms by either clicking on a staircase in a room, which will show the room directly above it, or by using the staircase icon in the top left.
By default, each player has a sprite of Nikki wearing a cherry dress and black shoes. However, by completing certain limited time wish court pavilions, they can unlock other sprites.
| Sprite Name | Preview | Description | How to Gain |
| --- | --- | --- | --- |
| Cherry Youth | | Nikki wearing a white and red dress with a cherry pattern, white socks, and black shoes. | Free |
| Misty Snow | | A sprite with black hair and white, pink, and black clothes. She is carrying a fan and has pink flowers in her hair. | Collect Blue Snow Pavilion furniture |
| Chocolate Maid | | A sprite with blonde hair, brown eyes, a black-and-white maid dress, a cat-ears headpiece, and black and white shoes. | Purchase Chocolate Maid pack in the User's Shop |
| Royal Guard | | Neva wearing a black dress with dark blue sleeves and hosiery. | Collect furniture from Castle Thrill pavilion and the furniture from the time-limited Sale |
| Snowy Night Gift | | A sprite with blonde hair in pigtails and a red bow, white earmuffs, and a fur-lined blue dress with a red bow in the top. | Collect Brilliant Christmas Eve furniture |
| Sakura Daisy | | A sprite with brown hair in a bun and a purple and yellow kimono. | Spend 2,000 from January 11th to January 20th, 2019. |
| Little Sailor In the Sun | | A sprite with short brown hair wearing a sailor outfit and holding a red buoy. | Collect Poem of Sail and Sea furniture |
| Wedding Nikki | | A sprite with light brown hair, a flower veil, and a beautiful white wedding dress. | Collect Time of Flower & Love furniture |
| Time Collector | | A sprite with long brown hair, a black hat, glasses, and a red, black, and grey outfit. | Spend 2,000 from February 5th to February 11th, 2019. |
| Time Traveler | | A sprite with white hair, a Ruin-style dress and boots and bunny ears. | Collect Near Future Echo furniture |
| Spring Grace | | A sprite with blonde hair and a mori-style dress, carrying a basket of flowers. | Collect Spring Impression furniture |
| Pâtissier | | A sprite with dark brown hair dyed light pink at the end, wearing a white, brown, and pink maid's outfit with a donut pattern and holding a lollipop. | Collect Fairy Tale Bakery furniture |
| Little Learned Detective | | A sprite with short, soft brown hair, thick-framed black glasses, brown clothes, and a newsboy cap, carrying a messenger bag and a pipe. | Collect Sunday's Street furniture |
| Daughter of Sun | | A sprite with short black hair, white robes adorned with golden and jeweled ornaments, and a golden headpiece holding a crook in one hand and an ankh in the other. | Collect Muntratus Temple furniture |
Players can unlock visitors for their house by completing certain limited time wish court pavilions and the flash sale that comes with it.
Community content is available under
CC-BY-SA
unless otherwise noted.