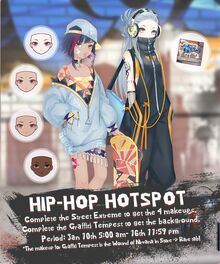 Event that ran from January 10th to January 16th, 2018
In Apple's hip-hop hotspot, Griffon Street, a grand hip-hop party is to be held. On the cool stage, what kind of street style will the two youngsters show?
There will be an event map with 5 stages. Two stages will be quiz stages and the other three will be Styling battles. You are given 3 free attempts for each stage daily and failing a stage will not deduct your attempts. Stamina is not needed to complete these stages. Complete the stages to get Graffiti Paint
. Exchange the Graffiti Paint for pieces of the Street Extreme and Graffiti Tempest suits.
Total Cost: 930
Suit Completion Reward: Extreme Sports (Dress), Extreme Rush (Makeup), Street Show (Makeup), Street Contest (Makeup), Street Chic (Makeup)
Total Cost: 930
Suit Completion Reward: Graffiti Tempest (Dress), Graffiti Wall (Background)
Community content is available under
CC-BY-SA
unless otherwise noted.