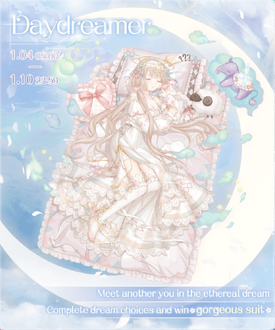 Ran from January 4th to January 10th 2020.
As night closes its eyes, Nikki fell into a sweet dream. Make choices in the dream, win Nikki's Wish, and exchange exquisite set Daydreamer!
Players will be shown two outfits and a styling theme. Choose the outfit you think would score better for the theme to gain Nikki's Wish

. Exchange the

for pieces of the suit Daydreamer. Five

are awarded for choosing correctly and three

are given for choosing the wrong outfit. Players get ten free attempts every day and more attempts can be bought for 20

each.
Total Cost: 667

Suit Completion Rewards: Awake the Sun, Dream of Flowers and Sheep, Dream Eater, Vision in Dream and 30

.
Scores are based on attributes.
Sporting Nikki
Edit
The OL Nikki
Edit
Nikki in Winter
Edit
Nikki by Pool
Edit
Nikki at Ball
Edit
Community content is available under
CC-BY-SA
unless otherwise noted.