In order to organize their own wardrobe items, players can create Folders, which allow for custom groupings of items that can be used later in Free Dressing, Competition, Starry Corridor, Around the World, stages, and anywhere that allows for dress-up.
You can make a folder based on whatever criteria you'd like; however, you also must manually add new clothing to the folder after gaining it.
Creating folders
[
]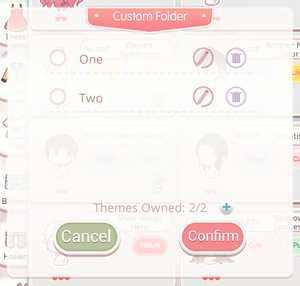 Folders can be created in the Wardrobe section of the game, which is always the first button on the right. The Folder feature can be accessed by pressing the pink Folder button on the top left of that screen. Folder names must be between 1 and 5 characters.
Players have two folders by default, and can buy more folders for the following prices:
| Folder # | Cost |
| --- | --- |
| 1 | Free |
| 2 | Free |
| 3 | 50 |
| 4 | 50 |
| 5 | 50 |
| 6 | 100 |
| 7 | 100 |
| 8 | 170 |
| 9 | 170 |
You cannot have more than nine folders.
Adding and removing items
[
]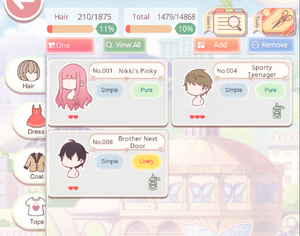 At the Wardrobe section of the game, you can add and remove items from your folders by selecting a folder, then choosing "Add". This will give you a list of every single item you own, organized by item type and item number. You can also search items and filter by tags and attributes in order to find the item you're looking for.
Tap an item to select it and add it to the folder. Once you are done choosing items to add, you must click the green "Done" button. Make sure not to click the Tools or Back buttons, as these will take you away from the screen and erase your progress.
You can remove items by choosing "Remove", which shows a list of every item you already have in your folder. Tap the items you want to remove and press the green "Done" button.
You can only add and remove items from the Wardrobe section, not in Free Dressing. You cannot preview the item while adding it, you can only see the icon. You also cannot add items you don't own to a folder.
Using folders
[
]
While in dress-up mode, before choosing a category of item (like Hair, Dress, Accessory, etc), tap "See all" at the top of the right-hand menu. There, you can select one of your folders.
After selecting a folder, only the items within that folder will appear. They will still be organized by Hair, Dress, etc, and you can filter them and search within them while dressing up. For example, you can find all Elegant items in a folder while dressing up.
[

]