Overview Map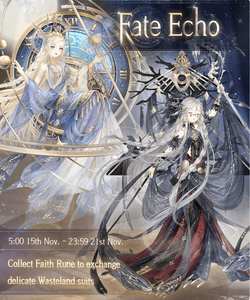 Ran from November 15th to November 21st, 2018.
Like a totem inscribed in blood, the fate is deeply hidden. Believe fate or yourself. A question even to the Seer. The follower of Norn the Goddess of Fate, Salma is reading the fate.
There will be an event map with 5 stages. Two stages are quiz stages and the other three are styling battle stages. Complete these stages to earn Faith Runes
and exchange them for parts of the Dusk and Dawn and Star Invoker suits.
Completion Reward: Shimmer in Starlight, Sea of Moonlight, Mortal Moment, Dawn and Dusk, Tower of Time, Trail of Time
Total Cost: 1,059
Completion Reward: Sealed Secret, Eternal Stardust, Star Says, Eye of the Unknown, Night Wild Dance
Total Cost: 1,015
Community content is available under
CC-BY-SA
unless otherwise noted.