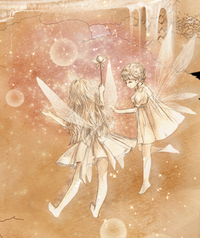 Elves (sometimes also referred to as fairies) are a race that generally live secluded in the Pigeon Forest, rarely setting foot in the cities.[1] They are described as beautiful and innocent, and they devote their lives to enjoying the places around them.[2] They have long, pointed ears, which give them good hearing, and they can gracefully leap long distances.[3] They can retract their wings, which allows them to sleep and wear clothing comfortably.[4]
In the Pigeon Forest, they are protected by gods for their entire lives.[5] However, not all elves remain in the Pigeon Forest, such as an elven princess who left her home in search of adventure.[6] Due to the value elves place on lineage, elves such as Casablanca have been banished from the Pigeon Forest for having blood of noble elves mixed with "inferior" common blood.[7]
Additionally, there are elves that appear outside the Pigeon Forest, and are found across Miraland.
There are several different types of elves, each with their own lifestyles and habitats.
Pigeon Forest Elves
Edit
Elven Rule
Edit
Many years before the New Era, the elves used to rule all of Miraland. Humans lived with the fear of elves and elven magic, but one philosopher named Perry Pat was not afraid. He believed that elves just had a greater understanding of the natural world, which was why they could do magic. However, the elves condemned him for his beliefs and drove him out.[18]
Perry Pat studied the sky and learned astrology and mathematics. He discovered that stars had a fixed orbit and were not controlled by elves. He formed a speech and presented it to the people of Miraland, explaining that stars were not affiliated with Miraland at all and implying that there was no chosen race by their Creator. Perry Pat was ridiculed for his views at the time, but many years after his death, his achievements in philosophy were recognized. In his honor, the year he gave his speech was used as the basis for their calendar system; it was established as the first year of the Star Era.[18]
Birth of the Pigeon Kingdom
Edit
Elves and humans cooperated in order to build the Pigeon Kingdom together.[19] They have guarded the Pigeon Forest ever since its beginning.[20] Though they used to live outside of the forest as well, they were persecuted by those who wanted to take their wings, hair, and treasures, so the Elf Queen forbade the elves from leaving the forest.[21]
Elves and humans worked together to bring peace to Pigeon in its Renaissance period.[22]
Other Elves and Fairies
Edit
Some of the most famous paintings in Pigeon feature a woman who may have been an elf or half-elf.[22]
References
Edit
↑

Shining Nikki: Chapter 10-11
Community content is available under
CC-BY-SA
unless otherwise noted.