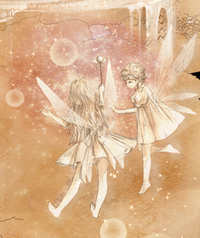 Elves are a race that generally lives secluded in the Pigeon Forest, rarely setting foot in the cities.[1] They are described as beautiful and innocent, and they devote their lives to enjoying the places around them.[2] They have long, pointed ears, which give them good hearing, and they can gracefully leap long distances.[3] They hibernate every winter due to their belief in the Snow Witch.[4]
In the Pigeon Forest, they are protected by gods for their entire lives.[5] However, not all elves remain in the Pigeon Forest, such as an elven princess who left her home in search of adventure.[6] Additionally, due to the value elves place on lineage, elves such as Casablanca have been banished from the Pigeon Forest for having blood of noble elves mixed with "inferior" common blood.[7]
There are several different types of elves, each with their own lifestyles and habitats.
Elves and humans cooperated in order to build the Pigeon Kingdom together.[15]
References
Edit
Community content is available under
CC-BY-SA
unless otherwise noted.