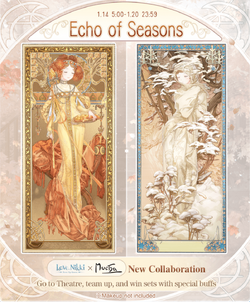 Ran from January 14th to January 20th, 2020.
December Troupe's new work "The Seasons: Autumn and Winter" is out!
A collaboration event with the Mucha Foundation, bringing Alphonse Mucha work to the game as wardrobe items.
Team up with another player and compete in a 2v2 styling battle based on a theme to earn Fallen Leaves

. The theme changes to a random one every day and you are given 5 free chances for each. More attempts can be bought for 30

each. The player's performance is also based on a random buff which will last for the next five turns. When you collect a certain amount of Fallen Leaves

, you will be able to claim rewards like in-game currency or parts of the Autumn's Promise and Winter's Grace suits.
The suits featured in this event has been confirmed to return in the future.
Each buff will be ranked between 1★ and 3★, with 3★ giving the most powerful buff.
| | | |
| --- | --- | --- |
| | | |
| Trace of Leafall | Star of Snow | Goddess's Gift |
| Increase your score | Increase partner's score | Gain extra tokens |
Mountain Sunset
Edit
The autumn wind dyes the mountain orange. Wear clothes easy to move to enjoy the view!
Autumn Park
Edit
In the refreshing autumn, hang out in the park! Cute Animal clothes must be fit!
Dance on Ice
Edit
On the clear frozen lake, elegant and pure girls stage a dance show.
Winter Banquet
Edit
It snows quietly outside while the Ladies in gorgeous sexy dresses attend the banquet.
Collection Rewards
Edit
Community content is available under
CC-BY-SA
unless otherwise noted.