Raise a Floppa - The Loop
Play Sound

Chloris's Dreamland is a series of quests that tells his story. It can be located in the Dream Weaver building.
The chapter Way to Work from Yvette's Dreamland Bunny in March must be completed in order to unlock it.
Dream Weaver Routes
[
]
Starry Reunion
[
]
"The Wood Elf is one of the most ancient and most powerful race in the Pigeon Forest. They have guarded this pure land since the existence of Pigeon Forest. The girl Flora stumbled into the forest by accident and met Elf Prince Chloris..."
Forest's Watch
[
]
"The crystal in the Bovary Lake carry the prosperity of wood elves for hundreds of thousands of years, and reflecting that encounter triggered by accident, which should never exist in his life."
Fate in Mirror
[
]
"Chloris finds a huge mirror in the Pamir Forest, the mirror shows a way to the mysterious forest, what story will happen in the mirror world?"
Moon Night Poem
[
]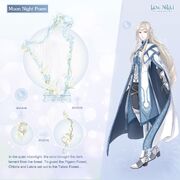 "In the quiet moonlight, the wind brought the dark lament from the forest. To guard the Pigeon Forest, Chloris and Lakris set out to the Taboo Forest in the North."
Suits
[
]