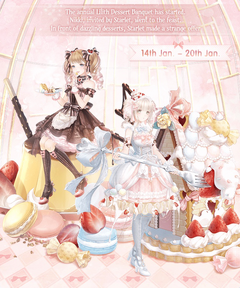 Ran from January 14th to January 20th, 2019.
Ran again from December 4th to December 10th, 2019.
The annual Lilith dessert carnival has started. In front of the dazzling desserts, Starlet made a strange request... Team up with other stylists to win Macaron an special event suits.
Team up with another player and compete in a 2v2 styling battle based on a theme to earn Macarons

. The theme changes every day and you are given 5 free chances for each. More attempts can be bought for 24

each. When you collect a certain amount of

, you will be able to claim rewards like in-game currency or parts of the Pudding Prevails and Dream Dessert suits.
1 - Sweet Invitation
Edit
Stars show that gorgeous clothes will help you enjoy the dessert!
2 - Starlet's Request
Edit
Starlet rent a divination booth in the banquet. Wear convenient clothes to decorate the booth
3 - Surprising Challenger
Edit
Someone wants Starlet's booth? How can Nikki lose over sweet?
4 - French Calling
Edit
A neighbor girl asked Nikki to help style a French romantic suit!
5 - Lightning Puff Challenge
Edit
Éclair decorated with chocolate is so tempting. Defeat the landlady to taste the dessert!
6 - Reunion Challenge
Edit
Nikki's came to Miss Pudding's booth and received a challenge!
7 - Sunset Group Photo
Edit
What a day! Momo suggests wearing lemonade-pure clothes to take a group photo
Collection Rewards
Edit
This event initially debuted on the Taiwan/Hong Kong/Macau server.[1]
References
Edit
Community content is available under
CC-BY-SA
unless otherwise noted.