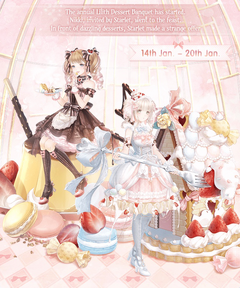 Ran from January 14th to January 20th, 2019.
The annual Lilith dessert carnival has started. In front of the dazzling desserts, Starlet made a strange request... Team up with other stylists to win Macaron an special event suits.
Team up with another player and compete in a 2v2 styling battle based on a theme to earn Macarons

. The theme changes every day and you are given 5 free chances for each. More attempts can be bought for 24

each. When you collect a certain amount of

, you will be able to claim rewards like in-game currency or parts of the Pudding Prevails and Dream Dessert suits.
1 - Sweet Invitation
Edit
Stars show that gorgeous clothes will help you enjoy the dessert!
2 - Starlet's Request
Edit
Starlet rent a divination booth in the banquet. Wear convenient clothes to decorate the booth
3 - Surprising Challenger
Edit
Someone wants Starlet's booth? How can Nikki lose over sweet?
4 - French Calling
Edit
A neighbor girl asked Nikki to help style a French romantic suit!
5 - Lightning Puff Challenge
Edit
Éclair decorated with chocolate is so tempting. Defeat the landlady to taste the dessert!
6 - Reunion Challenge
Edit
Nikki's came to Miss Pudding's booth and received a challenge!
7 - Sunset Group Photo
Edit
What a day! Momo suggests wearing lemonade-pure clothes to take a group photo
Collection Rewards
Edit