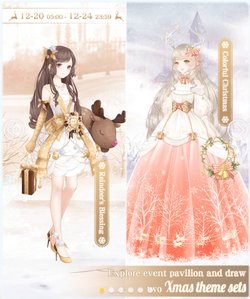 Ran from December 20th to December 24th, 2019.
It is said that Santa Clause [sic] lives in the most freezing Land of Aurora in North Kingdom. And on each Christmas Day, he will ride a sleigh pulled by reindeer and secretly put gifts in each child's Christmas socks.
Complete Journey stages to get Bows

. Exchange the

for a Reindeer Box or an Xmas Box. A Reindeer Box requires 4 Snow Bells and an Xmas Box requires 6 Snow Bells. You are given 5 free attempts to convert the

to Boxes every day and they can be reset for 24

each. Collecting a certain amount of each Box will allow you to obtain parts of either the Reindeer's Blessing or the Colorful Christmas suit. Collect the Reindeer Box for the Reindeer's Blessing suit and the Xmas Box for the Colorful Christmas suit.
Collection Rewards
Edit
Community content is available under
CC-BY-SA
unless otherwise noted.