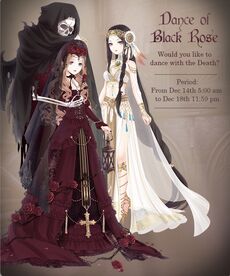 Ran from December 14th to December 18th, 2017.
The Black Death fell for an innocent girl, but the omniscient prophet told him that this will only kill her. Death decided to invite her for a last dance before leaving...
There will be a special map with 5 stages. Complete those stages to earn Black Roses (score is converted into Roses). You'll get a Rose for every 5,000 Points scored. Exchange the Roses for the unevolved parts of the Soul Seer suit. Collecting certain amount of Roses will allow you to claim the recipes for the Black Rose suit (This will not affect the amount of Roses you have). You will need to collect 5,321 Roses to complete the Soul Seer suit and 8,055 Roses to complete the Black Rose set.
Exchange
Edit
Collection Rewards
Edit
Community content is available under
CC-BY-SA
unless otherwise noted.