Raise a Floppa - The Loop
Play Sound
Cloud Duel is a set of Story Suits. When you obtain the Blessed Azure Dragon, Frostwind of Tiger, Fiery Phoenix, and Mysterious Sea suits, which can be obtained from the Cloud Summit event, you will unlock a story.
Completion Prize: 50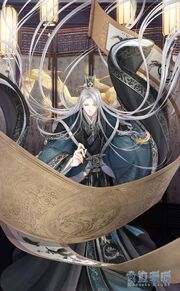 The next master of Dawn Dragon has finally been chosen, and it seems to be what everyone expects.
That is Haku, the King Haku that dominates the court and the man that even Cloud Empress respects.
Many may wonder, after all, over so many years, 'Qian Zhi' was reluctant to pass the position to Haku who managed the Dawn Dragon during his absence. Why didn't 'Qian Zhi' just nominate Haku earlier before retreating to Eternal Wood Hall?
Only Bais knew 'Qian Zhi' has been waiting, waiting for Haku to change into a real soaring Dawn Dragon into sky.
Before the ascension ceremony, Haku disappeared for a whole month. Absent from the court, no explanation from the Dawn Dragon, his disappearance made Even the Cloud Empress curious, and sending people to Dawn Dragon to inquire the matter. Yet all inquirers ran in vain and were sent back by Qian Zhi.
After one month, when Haku left the Confinement Yard, the long-missing sun suddenly stung his eye. He unconsciously closed his eyes, and saw those treasures in the Confinement Yard again. The finest works of Cloud and the legacies of Bai seemed to embed in his eyelids. They never stopped flashing while his eyes closed. These rays dazzle the eyes more than the sun in the afternoon. In his consciousness, He saw these never-before-seen spectrums kept whirling, and seemingly a dragon circling among them, wishing to fly: 'I finally found it, the key that unlocks both the past and future...'
When Haku was 12, he designed the Jade Yard and earned his fame in the Capital. Since then, it was not only Qian Zhi, but all of Cloud anticipated this young person to reach greatness. Everyone thought he would become Cloud Style's righteous successor. And His design's orientation was seemingly decided upon when he was 12 years old—Follow the principles of classic designs, finding his muse among the ancient scrolls that record the thousands of years authentic Cloud styling histories.
But Haku did not want to proceed down a road designed by others, for it is far beneath his limit. The destiny the Family carries banned him from the path of creativeness, it shackled the Family for hundreds of years and made they blind to how the tides flow. It was long enough of being sealed in the hierarchy, it was long enough of rotting in a pile of old books. The entire Dawn Dragon should not continue the way down like they had.
He began to learn about other design trends even though he had no sort of foundation in the first dozen ore years, yet through the virtue of his extraordinary talent in design, he produced works that people knew by his name. He met talented designers that cast off traditions and hired them under his banner. The Dawn Dragon is a long-standing Family in Cloud, which urged them more to seek for new designs, innovations, and aesthetic life.
Haku's deviation surprised the Qian Zhi. Haku was summoned to the Eternal Wood Hall, and it was the first time he didn't make his manner before Qian Zhi. He proposed to Qian Zhi that if he could design a work that outshone his, the master of the Family was his, and the Family's future from this day on as his choosing.
Qian Zhi agreed.
Qian Zhi had been leading the Family for hundreds of years, to beat him would not be easy. Haku changed his designs over and over again but never satisfied at any point. To come up with his design, he locked himself up in the Confinement Yard, where generations' of Bai place their masterworks. Haku spread out the scrolls that had gathered the wisdom of ancestors before him and he had been completely shocked. He looked up at the designs —That is a height he currently cannot reach. He came to realize that no matter the style, no matter which path he took, the final standard is commonality.
Haku quieted down, and he knew he was him without equal. Only he, Haku, could achieve this. He wanted to transcend the present and the past, to shatter the barrier of time, and let the old to be rejuvenated.
Haku became a new version of himself.
When Haku turned over his design to Qian Zhi, the first time this timeworn century-old man exposed his age. The time had come: there was no need to wait. The Family would have its new master and the era belonged to the young.
Coiling up in the ancient trees, the dragon was waiting for a thunderstorm to make his way to the 9th heaven.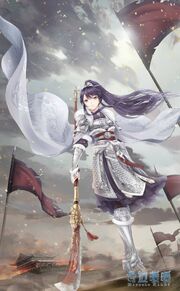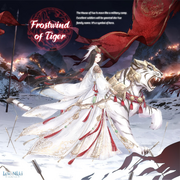 This 10 year-old girl, not yet tall enough for a war steed, donned armor.
It was a night heavy with mist, and torrential rain that rendered the world a blur; while rivulets of water flowed down the girl's cheeks. Suddenly, she felt a touch, a hand warm and softly stroking her head like when she was little. Someone carried her to her horse and placed her on its back and spoke into her ear with a disconnected voice diminished even further by the rain. A voice called out 'Forza......Forza! You must go.' Then a heavy blow struck her horse, compelling it to rear on its hind legs, its front hooves pawing the air, and the battle steed whinnied——
Forza woke up. Bright moonlight shone through the window, and the scene presented to her that night appeared in her dream for eight years thereafter. And by then she wasn't that little 10-year-old girl any more. Appointed by the court she became the youngest master of the Clan Tiger. And, like masters of households throughout history, she served as the Great Protector that protects the country—— leading countless frost tiger soldiers to protect the Cloud and its land. Sadly, the man from her dream is lost forever.
He was her uncle and mentor. Eight years ago, The Nine-day war erupted. At that time 10-yeard-old Forza successfully challenged the Frost Tiger's 7th array and stood out from her peers. She was assigned a task which was to accompany her uncle escorting the treasure of Cloud to Lurfdan. She still remembers, that before heading out, her uncle repeatedly said to her, pride tingeing his voice, 'Throughout the history of Clan Tiger, among the ones who have passed the challenge of the Frost-Tiger's 7th array, you are the smallest one ever'.
However, neither of them could have imagined this trip would be as dangerous as it turned out to be. Of the eight people that set out, only two of them made it to their destination.
Forza was up before dawn, her armor placed on her bedside. She is barely able to recollect events from eight years ago. She has no time for recollection, or to be sadness; As a Clan Tiger, what matters to a Clan Tiger is her duty and her ability to bear the weight of death and the past.
From an early age, the Clan Tiger children learned how to use swords and studied weapon design, and every Clan Tiger child has a mentor that helps them complete missions until they take up an official military post. Forza's mentor was her uncle, however from he age of 10 there has been no one to mentor her. Though the elders of the house had decided to find her another mentor, they were unable to find one, for there was no one in the house that possessed the skill to teach her. In fact, she didn't really need. Her uncle had already taught her the last lesson before his death. There was nothing else in the world that could temper her.
Many say, Forza is the reincarnation of the invincible White Tiger Star.
Geared up, she was about to go to the dojo to practice sword fighting, which she was used to doing and had been so for many years. During training, Clan Tiger children not only participate in contests but they also take part in practice battles with actual swords and real spears. Curse of Blood could not safeguard the peace of the Miraland forever. The will always be schemers whereas the Clan Tiger was to stop them and defend the people of the Cloud.
A cold light flashed, a sword unsheathed, stabbing, hacking, blocking waving, clean and neat. Forza's swordsmanship had no gorgeous moves, only direct and powerful attacks. Once she sheathed her sword, she appeared to change back into the 18-year-old girl she was, wiping the sweat from her brow with her rabbit-embroidered handkerchief. She turned her head and found Musika waiting by her side.
'Musika, Musika, you've come!'
'Forza, the lanterns we will fly tonight are prepared. There are a total of 133 this year.'
'OK, thank you for the work.'
As the master of Clan Tiger, Forza must personally send off the lanterns, for every lantern represented a soul of Clan Tiger that had passed on. Every year on New Year's Eve, the Clan Tiger will comfort the lost spirits in this way. Eight years ago, she had not been made master of the House, and stubbornly insisted on sending off her uncle's lantern and watched it soar into the distance, disappearing into the sky.
'Forza, Apple Federation has already allied with Vedaphore and possibly the Cloud is their first target to attack. The Northwest is the most vulnerable.'
'Tomorrow morning, I will return to the Northwest to court war. In the name of the Frost Tiger and warriors sacrificed their lives protecting this land for thousands of years, I will make them know that Cloud is under the protection of Frost Tiger. They cannot intimidate us!'
On New Year's Eve, the Clan Tigers' soldiers stand up right on the drill grounds, seeing the lanterns float up from Forza's hands, into the sky with chilly winds, away from the ground, away from the mortal world, to where it should be.
In full armor, her silver cloak flowing in the wind, Forza shouted, 'Soldiers! The Apple Federation has allied with Tyre threatening Cloud's very existence on this day. Once we commence with the battle, except for styling war, there will be clashing of swords, but Clan Tigers are fearless. As the commander, I will lead you to victory!'
133 lanterns have already disappeared in the sky, the silver light of dawn is shedding on the ground behind Forza. The Clan Tigers hold their flapping flag high. Forza's voice, still that of a girl, but imbued with bravery, 'Clan Tigers have been guardians of the Cloud for thousands of years, we have, and will, guard it forever!' her voice echoes, curling into the cloud.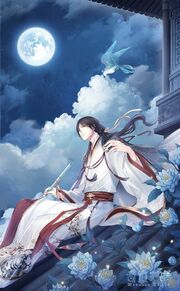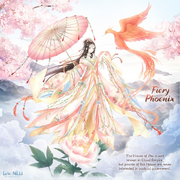 Aria's most hated word is 'destiny'.
For him, the 'destiny' is just an accumulation of street rumors that predict the fall of Power Phoenix, and which he would definitely break.
When he was 10, his father and mother suddenly passed away in the span of one night, and the 10 years of carefree became a bubble in an instant. It was no time for him to shed tears and he had been put on the position of master. Below him, all eyed greedily.
4 large Families, reign in four areas, checking each other. Except for the western Frost Tiger protecting Cloud, the rest three eye for each other's decline, finding chances to bury the unfortunate. There wouldn't be any pity: the Dawn Dragon commanding the imperial court; the other powerful Families in the South, none of them would let the chance to destroy the Power Phoenix go by this time. Even the clansmen of Power Phoenix were planning to replace the poor child. It seemed that except the Shadow Guards Aria has no one that he can trust.
The situation was so critical that the rumors about the Power Phoenix were dying spread widely. Everyone waited for Aria's ending, to be killed or pulled down from the position of master. No one had imagined that this 10-year-old child would not only purge the Family of those, sit stably as the master, but also rebuilt the Family and even surpassed his father's achievement.
Everyone started to say that the new master of Power Phoenix was formidable. Though his demeanor was calm like a clear sky, depraved, actually unscrupulous, making life and death decisions in a moment.
When Aria turned 16, the Power Phoenix was preparing to build a treasury—Mansion Voyage Moon. The youngest among the four Families the Deep Ocean weighed the pros and cons, would like to befriend with the Power Phoenix. In the name of helping the construction of Power Phoenix's treasury, They sent Lynn to the Power Phoenix.
'My lord', the guard appeared quietly asking; 'Shall we investigate Lynn?'
'No need.' Aria answered nonchalantly.
The guard disappeared into the background. He turned his eyes to the distance. The little girl in watercolor clothes was seriously measuring the grassy land, planning the construction of Mansion Voyage Moon, and hadn't given him a single look.
'The Family of Deep Ocean's gift is indeed peculiar.'
Aria smiled. Since Deep Oceans wants to befriend with us, we must respond as well. Lynn is only a 16-year-old girl, just a handful of treasures can turn her into our favor.' But this time Aria miscalculated. All of Lynn's efforts were focused on the treasury design and construction and completely overlooked him.
Lynn was just simple, it seemed as if her heart only has room for one matter at a time. Yet, there were many matters in Aria's heart, and no one knew which he cared most.
Aria wanted to be in Lynn's heart and wanted to see if there is anyone in this world that can faithfully stay loyal to one thing until the end.
He racked his mind to take Lynn to see the scenic mountains and precious jewels. Yet Lynn only broke into a smile before Omnimetor, a time-and-location-indicating instrument.
At that moment, Aria's heart began to wish that he could enter her heart.
Mansion Voyage Moon was completed, the Family master of Deep Ocean intended to make Lynn the next master. Lynn had to go back. On the eve of her departure, Aria played the song his mother loved and often played to lull him into bed in moonlights. In childhood, Aria often overheard his mother playing zither in his shallow dreams, and vaguely heard her melancholy. In that very night, he didn't say anything, didn't smile because he didn't really like talking or like smiling.
He had a lot on his mind, like the future of the Family, the balancing act between other Families, and the blood of Cloud Empress...Lynn was just a matter among many matters.
5 years later Lynn officially became the master of Deep Ocean, and masters of the other three Family would attend her ceremony. A servant asked Aria to choose to present. Aria shook his head for he had chosen long before, and it was in that exquisite brocade box.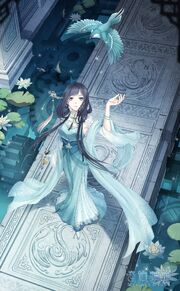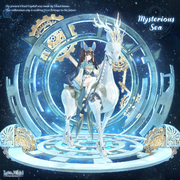 Turtle didn't speak, just drifted silently in shallow water.
Lynn didn't like to speak but remained in a workshop working crazily.
Turtle was Lynn's best friend. It accompanied her day and night in the workshop. Lynn didn't like talking to people. She liked small machines, from one points she can flip an unlimited number of changes. Once she began designing a machine, she would forget everything else around her, including her friend Turtle who was with her. Once, she finished a part, she turned her head and discovered Turtle extending its neck looking at her wistfully. She felt a little guilty for leaving it alone, so she worked day and night for about two weeks, making an armored wooden turtle machine to play with Turtle.
'Lynn, you haven't left the workshop once while making this turtle?'
Lynn brought her work out of the workshop and endured her friend's ridicule. She did not fight back, just watched silently those rocking back and forth and laughing.
'Let me see, ha ha ha, this turtle... ah—ouch!'
The little guy held out his hand towards Lynn's armored wooden turtle, and was still 3 inches from it, the turtle snapped. They stopped laughing.
The master of Deep Ocean quickly discovered Lynn's talent and complimented her for making these sophisticated machines at such a young age. At the time, Lynn, still a young girl with twin hair buns, tilted her head, and somberly said:
'Machines are not the most complicated things on this earth; hearts are more complicated.'
It was at that time, the master of the Power Phoenix in the south realm released a list of heroes to recruit talent, hoping to find designers that would construct the treasury tower - Mansion Voyage Moon - for the Family. When asked by the master, Lynn agreed to take on the task and set off for the Southern realm of Cloud. The South and the cold North are completely different; She saw flowers covering the mountains and plains, meandering streams, exotic yarn, bright blue pearls, and met someone with a silver tongue.
If, by chance, Lynn had not gone to the South, she would probably have remained in workshops with her friend Turtle her entire life. But fate guided her to this strange land, where she learned to work with others and deal with relationships. Amongst these matters, the most tiring thing was meeting the new master of the Power Phoenix, Aria who was quite talkative, and laughed all the time, and always tried to make people laugh in a way no one has ever thought of. However, there were times he would become very quiet, and just sit in the garden playing the same song with clothes thrown on his shoulders, pouring drinks into a cup. Lynn didn't understand him, so she said that the heart is the most complicated thing.
It could be that she didn't understand so she could not repress her desire to see more.
Once the Mansion Voyage Moon was finished, former masters of Deep Ocean arrived to attend the ceremony and announce Lynn as the next master of the Family of Deep Ocean and that they would like to take her back to the North. Power Phoenix agreed. On the eve of the departure, Aria came to bid farewell. He barely said anything. He just played the same song for Lynn over and over again. The two of them sat quietly together, as though their words had already melted into the sound of the zither and the moonlight.
The trip to the South was particularly important to Lynn, for it was there she learned new ideas, discovered new things that were more helpful to her study than simply locking herself up in her room. After returning to the Family, with what she saw and learned, Lynn combined the Family's mechanical skills with fashion designs. Although she still maintains her cold temperament, she is no longer that little girl that only knows about machines.
Five years later, at the ceremony of Deep Ocean Family, Lynn saw Aria again. His smile carried more confidence at that time as he had already got used to dealing with matters between families. And Lynn had also grown to be a true Family master. The two Family masters exchanged greetings, besides that no further words were spoken.
After Aria had left, a maid presented a brocade box and said it had been given as a gift by the master of Power Phoenix. Lynn opened the brocade box. Inside it held an exquisite small-scale model of omnimetor.
Lynn carefully fiddled with the magnets inside omnimetor then placed it in the recesses of the cabinet, where she also placed the armored wooden turtle.
Etymology
[
]
Name by Server
[
]
| Version | Name (Romanized) | Translation |
| --- | --- | --- |
| International (English) | Cloud Duel | N/A |
| Taiwan/Hong Kong/Macau (Traditional) | 雲巔之戰 (yún diān zhī zhàn) | Battle of Cloud Summit |
[

]