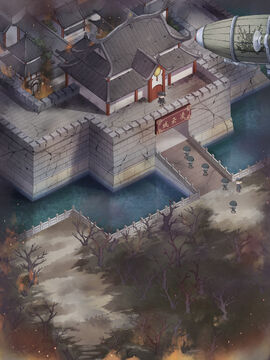 Besieging Of The Cloud City
is the second part of
Chapter 15
in Volume 1 of the Journey in
Love Nikki
. It finishes the story that began in the first part:
Chapter 15 Head North To The Cloud City
.
Finally, Nikki and her friends reach Cloud City! However, it's completely surrounded by the League Till forces from the Northern Kingdom; they're led by Nidhogg and his second in command, a powerful woman named Ozeca. With the help of the journalist Cali, they manage to sneak into the city itself... Tragedy ensues, however, and Nikki will need to gather what's left of her strength AND the support of others (including some very unexpected allies) to get herself back on her feet and show the Northern Kingdom what she's actually made of.
Possible Drop: Metal Hairpin (Maiden), Cloud Fantasy (Princess)
Style: Seek Junior British Journalist
Key Words: journalist's clothes
Style Notes: Simple, Lively, Cute, Pure, Warm, Britain
Possible Drop: Black Heart Necklace (Maiden), Cathro, Retro Spoon (Princess)
Style: Seek Men's Military Uniform
Key Words: male army uniform
Style Notes: Gorgeous, Elegance, Mature, Pure, Warm, Unisex, Army
NOTE: The player must make Nikki lose 15 times before properly being able to duel with Nidhogg. After the 15th loss, Mela, Ransa and Sherry will appear and bring the Dawnblade sword, which will counter Nidhogg's skill that keeps the player's score at a mere 10.000 points. From then on, Nikki will win as long as she has the Dawnblade and the Dress and the Coat of the Path of Glory outfit.
Extra Contents
Edit
The following stories can be read without using stamina points, as they don't include fashion battle.
Mela, Ransa and Sherry approach Cloud City ion a zeppelin, having been given a very important mission by Queen Elle who seems to have her own plans and ideas in regards to the crisis between the Cloud Empire and the Northern Kingdom...
Nikki is still down and depressed after not only losing to Nidhogg, but suffering a terrible tragedy. The Iron Roses reach for her and tell her that she must recover and fight back, plus they reveal their intentions: to temporarily ally themselves with Nikki and give her the mysterious Dawnblade weapon, which will be very helpful.
After Nikki finally brings herself back and defeats Nidhogg, he decides to retreat for the time being. Then, a young man who has ties to one of her friends arrives.
Ozeca speaks to Nidhogg, and seems to be worried for him. She asks why did he actually pull back...
Target Suits
Edit
The battle suit is soaked in rain, tears, and Lunar's blood. After putting on some heavy military uniform and getting sharp sword, Nikki will help defend Cloud City!
Community content is available under
CC-BY-SA
unless otherwise noted.