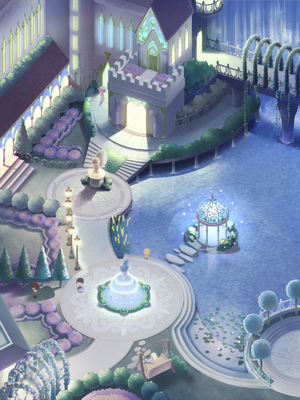 Chaos in City is the twelfth act in Volume 1 of the story mode in Love Nikki.
Plot
The capital has fallen into turmoil, and Nikki isn't sure of what to do. Ace calms her down and tells her that the soldiers around them are extremely well-trained, led by someone who really know what they're doing...
After fetching a distressed Momo and a terrified Bobo, Nikki and Co. sneak into the palace to see if Queen Nanari, Royce and Neva are well. Once she reaches for Royce, he explains what he knows (including the identity of the rebel leader, and how Nanari has gone missing) and tells Nikki that if she wants to help the Kingdom of Lilith, she'll have to go through several tests first. When she passes all of them (plus some unofficial ones), Nikki decides to go to the Republic of Wasteland to gather a powerful scroll that is supposed to help them in her upcoming quests.
Stages
Nikki was touched after hearing the love story of the girl who lived in abject poverty. Only love can cause flowers to bloom on cold metal...
Community content is available under
CC-BY-SA
unless otherwise noted.