Bullin Town is a town in the Lilith Kingdom. It is best known for its annual Halloween celebrations.[1]
History
[
]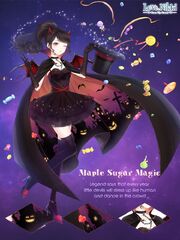 Every year, both humans and devils in Bullin Town will celebrate Halloween. Humans dress up as devils to celebrate, while devils disguise themselves as humans and hide in the crowd. The person who wins the most Maple Sugar is crowned "King of Halloween".[1] There is also a parade and a fireworks display.[2]
Year 680
[
]
While Nikki was in Miraland, she went to Bullin Town's Halloween celebration. She was approached by a witch, who asked Nikki to give her candy. However, when the witch discovered Nikki didn't have any, she turned Momo into a pumpkin - leading Nikki to scramble to find enough candies to appease the witch. By the end of the night, Nikki finally found enough candies for the witch to decide to turn Momo back. Momo ended up asleep in Nikki's arms with grilled fish in his mouth. The witch went on to share the candy with various kids in the town, and they watched the fireworks together.[2]
Name by Server
[
]
| Version | Name (Romanized) | Translation |
| --- | --- | --- |
| International (English) | Bullin Town | N/A |
| International (French) | Bullin | N/A |
| Southeast Asia (English) | N/A | N/A |
References
[
]
[

]