Overview Cloud Realm Story Event Store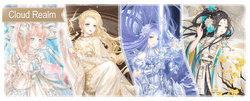 Pavilion for the Brave New World event.
Purchase Karma Star

for 100

each to gain chances to draw from a pavilion. Then draw from the pavilions for Lunar, Ace, and Kimi to gain resonance and pieces of the Cloud Realm suits World in Dream, Aster Guardian, and Glorious Chapter respectively. After 31 resonance for each, the pavilion for Bobo is unlocked and the user can draw to gain the suit Daymare Fairy Tale. After every 8 resonance gained, 1 Wish Bottle will be filled, dropping minor suits, super rare items,

,

, or

.
The avatar pendant Karma Star can be gained, with 80 hours being added for each Karma Star

.
Suits and Items
Edit
Main Suits
Edit
Minor Suits
Edit
Super Rare Items
Edit
Suit: Cloud Dream
Additional Rules
Edit
Community content is available under
CC-BY-SA
unless otherwise noted.