Raise a Floppa - The Loop
Play Sound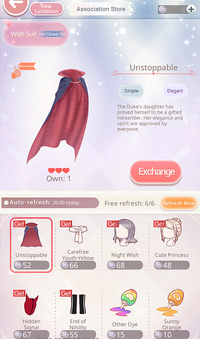 The Association Store is a shop in the Stylist Association. In the shop there are 2 random dyes/patterns (solid dyes= 10

, other dye = 15

, & patterns= 24

) up to 2 random items and at least 4 special items needed for suits only obtainable from the Association store. Items are bought with Association Coins

.
Refresh
[
]
Every day at 12:00 and 20:00, an auto-refresh happens. This refreshes all the items shown. You are given one free daily refresh and are given more depending on your VIP level. Members can refresh the store for 10

.
Wish Suit
[
]
By setting a Wish Suit, you can improve the drop rates of the suit's base parts. You can only have one Wish Suit at a time, and the drop rates of every part will be increased, not only the ones you are missing.
Non-exclusive Items
[
]
These items can be obtained through the Association Store, as well as other means, such as level drops and pavillions. They may or may not be part of a suit.
Exclusive Items
[
]
These items do not belong to any suit and are exclusively obtained through the Association Store.
| Item | Type | Cost | Final Evolution |
| --- | --- | --- | --- |
| | Makeup | 123 | None |
| | Makeup | 123 | None |
| | Makeup | 123 | None |
Suit Components
[
]
There are fifteen different collection suits and one hidden suit that are made exclusively with Association Store material. They are Sapphires the Phantom Thief, Military Princess, Crown of Love, Mist Fairy, Wind Whisperer, Night Wish, Star's Blessings, Mechanical Romance, Time Controller, Thorny Rose, Silk Petals, Hearty Poem, Crimson Cavalier, Feather of Purity, Phantom Walker and Garden Tour.
The components of Association Store suits generally must be evolved in order to form the suit. The base item is what is bought, and the actual suit is made up of the evolved items.
| Item | Type | Cost | Final Evolution |
| --- | --- | --- | --- |
| Wind Whisperer (Hair) | Hair | 64 | Wind Whisperer-Epic |
| Sway Dance | Dress | 98 | Sway Dance-Epic |
| The Wanderer | Shoes | 66 | The Wanderer-Epic |
| Cruise | Hair Ornament | 72 | Cruise-Epic |
| Item | Type | Cost | Final Evolution |
| --- | --- | --- | --- |
| Night Wish | Hair | 68 | Night Wish - Epic |
| Night Glass | Dress | 100 | Night Glaze - Epic |
| Midnight Flower | Hosiery | 52 | Midnight Flower - Epic |
| Shadow | Shoes | 58 | Quiet Shadow - Epic |
| Revelation | Hair Ornament | 48 | Apocalypse-Treasured |
| God Coming | Earrings | 68 | Saint Coming - Rare |
| Last Wish | Handheld (Left) | 85 | None |
| Item | Type | Cost | Final Evolution |
| --- | --- | --- | --- |
| Adept Craftsmanship | Hair | 68 | Adept Craftsmanship-Treasured |
| Mechanical Romance | Dress | 100 | Mechanical Romance-Treasured |
| Assembled Aesthetics | Hosiery | 48 | Assembled Aesthetics-Treasured |
| Gear Trajectory | Shoes | 58 | Gear Trajectory-Treasured |
| Classic Machine | Hair Ornament | 52 | Classic Machine-Treasured |
| Dance of Steam | Gloves | 58 | Dance of Steam-Treasured |
| Complete Rearmament | Handheld (Left) | 62 | Complete Rearmament-Treasured |
| Item | Type | Cost | Final Evolution |
| --- | --- | --- | --- |
| Roaring Rivers | Hair | 85 | Roaring Rivers-Epic |
| Golden Bookmark | Dress | 96 | Gold Leaf Bookmark-Epic |
| Go Back | Shoes | 62 | Explore the Past-Epic |
| Flourishing Flowers | Hair Ornament | 46 | Flourishing Flowers-Epic |
| Feather Luck | Earrings | 52 | Lucky Feather-Epic |
| Back and Forth | Necklace | 50 | Back and Forth-Epic |
| Dappled Old Scroll | Handheld (Left) | 88 | None |
| Item | Type | Cost | Final Evolution |
| --- | --- | --- | --- |
| Golden Velvet | Hair | 73 | Golden Velvet - Epic |
| Golden Scraps | Dress | 105 | Golden Scraps - Epic |
| Billowing Dust | Coat | 68 | Billowing Dust - Epic |
| Silent Footsteps | Shoes | 50 | Silent Footsteps - Epic |
| Promise of Jewel | Necklace | 40 | Promise of Jewel - Epic |
| Cross Chain | Brooch | 61 | Cross Chain - Epic |
| Guardian Rose | Background | 71 | Guardian Rose - Epic |
| Item | Type | Cost | Final Evolution |
| --- | --- | --- | --- |
| Gentle Page | Hair | 71 | Gentle Page - Epic |
| Hearty Poem | Dress | 100 | Hearty Poem - Epic |
| Wind in Wilds | Hosiery | 51 | Wind in Wilds - Epic |
| Freedom Homage | Shoes | 44 | Freedom Homage - Epic |
| Lingering Fragrance | Hair Ornament | 61 | Lingering Fragrance - Epic |
| Full of Stars | Gloves | 55 | Full of Stars - Epic |
| Sunny Cloud | Necklace | 54 | Sunny Cloud - Epic |
| Item | Type | Cost | Final Evolution |
| --- | --- | --- | --- |
| Morning Breeze | Hair | 67 | Morning Breeze - Epic |
| Attendant of Deities | Dress | 98 | Snow Queen |
| Feather of Purity | Coat | 52 | Feather of Purity - Epic |
| Diamond Dust | Shoes | 46 | Diamond Dust - Epic |
| Echoing Mountain | Hair Ornament | 43 | Echo of Faith - Epic |
| Fate Explanation | Necklace | 34 | Fate Explanation - Epic |
| Changing Starlight | Gloves | 37 | Changing Starlight - Epic |
| Whisper of Frost | Waist | 42 | Whisper of Frost - Epic |
| Embrace Silence | Handheld (Right) | 56 | Embrace Silence - Epic |
| Item | Type | Cost | Final Evolution |
| --- | --- | --- | --- |
| Prismatic Path | Hair | 62 | Prismatic Path - Gorgeous |
| Sea of Doom | Coat | 73 | Sea of Doom - Gorgeous |
| Dark Dawn | Top | 60 | Dark Dawn - Gorgeous |
| Data Surge | Bottoms | 60 | Data Surge - Gorgeous |
| End of Nihility | Hosiery | 55 | End of Nihility - Gorgeous |
| Alien Talisman | Shoes | 59 | Alien Talisman - Gorgeous |
| Hidden Signal | Face | 67 | Hidden Signal - Gorgeous |
Gallery
[
]
[

]