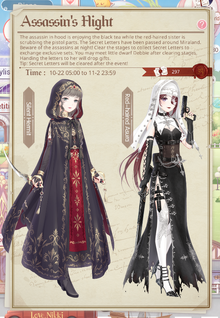 This event ran from October 22nd to November 2nd, 2019.
The assassin in hood is enjoying the black tea while the red-haired sister is scrubbing the pistol parts. The Secret Letters have been passed around Miraland. Beware of the assassins at night!
Complete Journey stages to collect Secret Letters

. Exchange the letters for parts of the Red-haired Asura and Silent Hermit suits. Debbie will sometimes come and ask for Secret Letters. If you give her some, she will give gifts (

,

,

) in return.
Completion Prize: Mysterious Night
Community content is available under
CC-BY-SA
unless otherwise noted.