Overview Mansion Empyrean Wonderland Story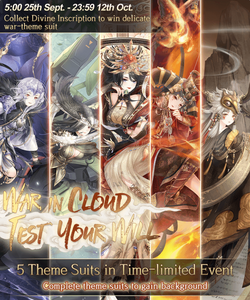 The legendary Mansion Empyrean appeared on the high mountain. The Cloud Emperor deemed it auspicious. The order to seek Divine Inscription and awake War Will was issued. Peace can only be gained through war!
Special pavilion for the Art of War Event. Draw to obtain Divine Inscriptions

. You will have a free draw every day and additional chances can be bought for 30

each. You will also be able to draw 10 times for 300

or 50 times for 1,500

. Each draw will return Stamina

, Gold

, Diamonds

, or an item. You will get 3 Jade Tokens

as well. When you collect a certain number of

, you'll get one of 5 event suits and an avatar pendant (Jade Token

) that lasts a certain amount of hours.
The last milestone will drop the Prosperous Reign suit.
Note: This event will come back with higher milestones and your current progress will be saved.
Milestones
Edit
Season 1: 80, 190, 310, 430, and 520

Season 2: 90, 200, 320, 440, and 530

Milestone Suits
Edit
Super Rare
Edit
Treasured
Edit
Community content is available under
CC-BY-SA
unless otherwise noted.