Overview Mansion Empyrean Wonderland Story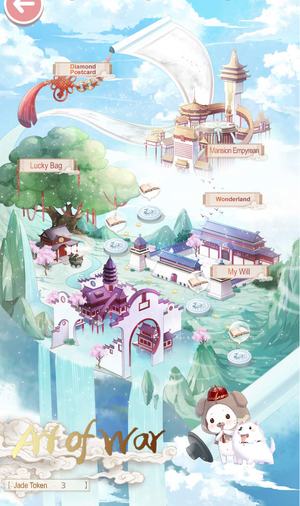 Ran from September 25th to October 12th, 2018. Ran again from July 13th to July 23rd, 2019.
In the long history of Cloud, there's a Goddess, Bi Xiao, who symbolized peace and hope. In legend, she always came to the world with four battle wills to fight for the peace. Wind is the soul of the battle which fights for war! Forest is the blood and tears which fights for the heart! Fire gave birth to desire! Fight for the desire! Mountain is the steady armor which fights dauntlessly! And why are you fighting?
When you first start this event, there will be a quiz. Depending on your choices, you will get one of the Four Wills. This will be your faction during the event. Claiming this will give you a recipe for either the Tiny Forest, Tiny Fire, Tiny Wind, or Tiny Mountain accessories. You can choose the will you want before claiming if you don't get what you want the first time.
After the quiz, you will be shown a map with 5 sections. Three of these sections contain the Lucky Bags, Diamond Postcard, and Wonderland events. The Mansion Empyrean contains the event pavilion, and My Will allows you to view and craft your War Spirit, as well as claim a War Spirit Pack containing 10

and 10

once your faction collects 200,000 Jade Tokens

.

can be collected by using a Wish Lot in the Lucky Bags event, or by drawing in the event pavilion.
See also: Minor Subplots/Art of War.
Community content is available under
CC-BY-SA
unless otherwise noted.