Raise a Floppa - The Loop
Play Sound
Overview Encounters Backgrounds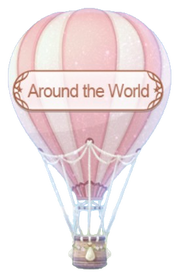 Around the World is a feature that allows players to travel around Miraland, take pictures with characters, and write diaries about their journey. It can be accessed by clicking the hot air balloon on the town screen. It is unlocked after completing Stage V1: 6-1 Challenge Flower Field (Maiden).
Gameplay
[
]
Every week, the player can choose a different city in Miraland to visit on a map, from the following selection. They can then choose various locations within the city to visit using Site Tickets

, or click Wander About to have a place chosen randomly (this is free and does not consume

).
Within each city, the player can view the introduction to the city and any relevant news.
Note: Any encounter that "features" another NPC means they appear in the dialogue but you cannot take a picture with them.
Travel Style
[
]
Each day, the player can dress up once. After arriving at a location within a city, the player will be able to take a photo at the location using the clothing they select. Even if they move to a different location, they will still wear the same outfit.
Travel Dream
[
]
For details about specific backgrounds, please see this page.
Travel Dream is the feature in which a player can earn Backgrounds. The menu is found by clicking "Travel Dream" while in a city.
Each background requires certain events to unlock it. To unlock the first five backgrounds, the player must trigger events in certain locations at least once by visiting them. Further backgrounds require the player to unlock other backgrounds before starting them.
Progress towards backgrounds are earned by simply traveling to a city and visiting a location. Every 30 minutes in a location will grant the player progress, (1 story material), which goes towards earning a background. As long as the player has chosen a location within a city, they will be earning progress towards a background. Progress is measured in half hours. Backgrounds will require either 168 (3.5 days), 336 (7 days), or 720 (15 days).

Sometimes an NPC will appear in a location you are visiting and ask a question. Choosing any of the options will instantly grant the player more progress towards their chosen background. There is no incorrect answer.
Also an NPC will appear in a location you are visiting and ask for your help with styling their outfit. Creating an appropriate style (i.e. Chinese Classical in a Cloud location) will instantly grant the player more progress towards their chosen background.
Diary
[
]
In the diary, the player can create one entry each day. Within the entry, they can write a message about their journey and include a photo taken that day.
By clicking Layout and using the tabs at the bottom, players can decorate their entry with stickers and stationary. The stickers available to use are the icons for the clothing chosen for the outfit, stickers relevant to the location, and stickers purchased in the Souvenir Shop. There were also previously stickers available from events (see Events).
Encounters
[
]
For details about encounters, please see this page.
Within this tab, the player can view brief descriptions of their past visits within a city with the date listed. They can sort their encounters by city or by date. If the player met a character, the encounter will also be noted.
Encounters that are part of a series cannot occur multiple times. The dialogue can be reviewed, but you only have one opportunity to take a picture with the featured NPC at that location.
The following encounters are part of series:
Azure's Messenger includes Azure's Messenger I, II, and III and is exclusive to the Azure's Messenger event.
Memorial Stickers
[
]
As you visit specific locations and complete certain encounters, you will be rewarded with special memorial stickers.
Note: Sticker names that are italicized are temporary names and will be updated as soon as possible.
Souvenir Shop
[
]
In the souvenir shop, the player can purchase various stickers as well as Express Passes

and Site Tickets

.
Note: You do not need Site Tickets to visit locations. You can visit them for free by choosing the "Wander About" setting.

Express Pass
5

Site Ticket
20

Sticker: Scallop
21

Sticker: Melon Pop
25

Sticker: Watermelon
26

Sticker: Citrus
23

Sticker: Donut
23

Sticker: Coffee
24

Sticker: Milk
26

Sticker: Strawberry
23

Sticker: Rainy
39

Sticker: Cloudy
39

Diary: Flower
300

Diary: Summer
300

Frame: Flower
50

Textbox: Flower Vertical
50

Textbox: Flower Horizontal
50

Frame: Summer
50

Textbox: Summer Vertical
50

Textbox: Summer Horizontal
50
Memory
[
]
Within this tab, the player can view past journal entries and images that they have decided to save.
Events
[
]
The event Azure's Messenger ran from October 5th to 11th, 2019 and featured Brocade City.
Stickers for Around the World could be obtained from the Backstage Story part of the Absurd Tale hell event, which ran from November 17th to November 28th, 2020.
Name by Server
[
]
| Version | Name (Romanized) | Translation |
| --- | --- | --- |
| International (English) | Around the World | N/A |
| International (French) | Autour du monde | Around the world |
| Japan | 世界旅行 (Sekai ryokō) | World Travel |
| Southeast Asia (English) | N/A | N/A |
Gallery
[
]
Additional Links
[
]
[

]