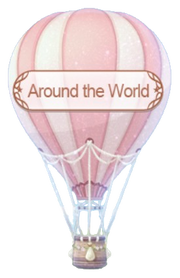 Around the World is a feature that allows players to travel around Miraland, take pictures with characters, and write diaries about their journey. It can be accessed by clicking the hot air balloon on the town screen. It is unlocked after completing Stage V1: 6-1 Challenge Flower Field (Maiden).
Gameplay
Edit
Every week, the player can choose a different city in Miraland to visit on a map, from the following selection. They can then choose various locations within the city to visit using Site Tickets

, or click Wander About to have a place chosen randomly (this does not consume

).
Within each city, the player can view the introduction to the city and any relevant news.
Travel Style
Edit
Each day, the player can dress up once. After arriving at a location within a city, the player will be able to take a photo at the location using the clothing the select. Even if they move to a different location, they will still wear the same outfit.
In the diary, the player can create one entry each day. Within the entry, they can write a message about their journey and include a photo taken that day.
By clicking Layout and using the tabs at the bottom, players can decorate their entry with stickers and stationary. The stickers available to use are the icons for the clothing chosen for the outfit, stickers relevant to the location, and stickers purchased in the Souvenir Shop.
Encounters
Edit
For details about encounters, please see this page.
Within this tab, the player can view brief descriptions of their past visits within a city with the date listed. They can sort their encounters by city or by date. If the player met a character, the encounter will also be noted.
There are a few series of encounters that the player can unlock by visiting locations in order. They are:
Sofia's Show: Sofia's Performance I, II, and III
Food Tourism: Food Tourism I, II, III, and IV
Azure's Messenger: Azure's Messenger I, II, and III (Exclusive to the Azure's Messenger event)
Souvenir Shop
Edit
In the souvenir shop, the player can purchase various stickers as well as Express Passes

and Site Tickets

.

Express Pass
5

Site Ticket
20

Sticker: Scallop
21

Sticker: Melon Pop
25

Sticker: Watermelon
26

Sticker: Citrus
23

Sticker: Donut
23

Sticker: Coffee
24

Sticker: Milk
26

Sticker: Strawberry
23

Sticker: Citrus
39

Sticker: Citrus
39
Within this tab, the player can view past journal entries and images that they have decided to save.
The event Azure's Messenger ran from October 5th to 11th, 2019 and featured Brocade City.
Additional Links
Edit
Community content is available under
CC-BY-SA
unless otherwise noted.